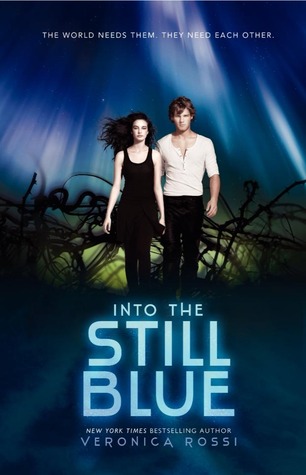 Title:
Into the Still Blue
Author:
Veronica Rossi
Series:
#3 -
Under the Never Sky
Format:
Hardcover
Release Date:
January 28th, 2014
My Rating:
4.0 out of 5.0
The race to the Still Blue has reached a stalemate. Aria and Perry are determined to find this last safe haven from the Aether storms before Sable and Hess do—and they are just as determined to stay together.

Within the confines of a cave they're using as a makeshift refuge, they struggle to reconcile their people, Dwellers and Outsiders, who are united only in their hatred of their desperate situation. Meanwhile, time is running out to rescue Cinder, who was abducted by Hess and Sable for his unique abilities. Then Roar arrives in a grief-stricken fury, endangering all with his need for revenge.

Out of options, Perry and Aria assemble an unlikely team for an impossible rescue mission. Cinder isn't just the key to unlocking the Still Blue and their only hope for survival--he's also their friend. And in a dying world, the bonds between people are what matter most.

In this final book in her earth-shattering Under the Never Sky trilogy, Veronica Rossi raises the stakes to their absolute limit and brings her epic love story to an unforgettable close.
My Review:
I was shocked at the mixed reviews to this book and while I am not sure what a lot of the public perception of this novel is. However, on Goodreads the reviews were all over the board and I was just shocked at how this series would end. When I started the novel I cleared my expectations and just opened myself to see how this book played out (which is normal). However, I wanted to make sure this book turned out and give it the best review based on my skeptical review search.

Now Aria and Perry pick up where they left off and with their love story being an issue at the end of the last novel, that remedies. I love how this novel focuses on their relationship and how well they need to interact to be the leaders between the two differing groups. I loved them in this book, they were conflicted with each other, and acted like a great normal realistic believable couple. However the major portion of the book is them separate or left apart, and I wish Rossi would leave them together and show their unity and love for each other.

Now this story takes mainly in part to Perry, I feel his story needed to be told. His people are on his mind and shoulders, he's holding the burden for everyone and I feel he is trying to stand tall and do what he can for everyone. I know that Aria feels bad for lying to Perry before and is trying to make amends to him, but Perry's stubbornness is what bothers me most. I loved him in this novel and how he stood out, just not as much as he did in the first novel. It was a new side to Perry that I enjoyed seeing.

The two Antagonist (Hess and Sable) are just vile and while they don't altogether see eye to eye, there is still one who is smarter than the other (it's apparent). I love how they turn and use different tactics to break up the main cast and any threats that may present them in their perfect new world. They their hate and disdain for Aria and Perry is great and shows just how far they are willing to go. They aren't really that fearing or well evil at all, but they did just fine for this style of book.

My biggest gripe in this book is the plot. There really wasn't any twist of surprises that caught me in this book. This is a great novel, but at times the points were moved so slow that I wanted to skip parts of it. I wanted some parts or a 1/3 of this book removed, there wasn't much building or character growth so I don't understand why some of the plot points took so long to develop.

The ending was slightly anti-climatic and Aria stole the show in that case. I enjoyed it, and I hate to see the series end. Don't worry I'll be waiting on Veronica Rossi's next series/novels to read to get my fill. While I did gripe on this book more than I probably intended, it was still good and I found that it left me satisfied and happy, which you can't ask for better. Give the series a shot and you will enjoy it. It was a great series.