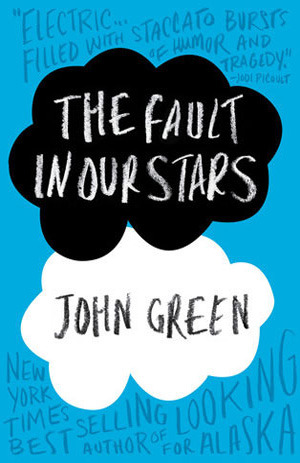 Title:
The Fault In Our Stars
Author:
John Green
Format:
Hardcover
Release Date:
January 10th, 2012
My Rating:
5.0 out of 5.0
Despite the tumor-shrinking medical miracle that has bought her a few years, Hazel has never been anything but terminal, her final chapter inscribed upon diagnosis. But when a gorgeous plot twist named Augustus Waters suddenly appears at Cancer Kid Support Group, Hazel's story is about to be completely rewritten.


My Review:
So this is the easiest book review I have done in a long long while, and being a John Green novel has nothing to do with the easy 5.0 rating. Frankly I have heard a lot of good things about John Green and how's he's supposed to be this grand great writer. The way I can say this had nothing to do with any of that and dispel those accusations already, is this is my first Green novel. It was perfect, something raw and gut-wrenching in this novel is what I wanted to read at the time. The best part is the line, "Pain demands to be felt" is a great quote to how I felt after this.

Hazel at first grated on me. I didn't like her pessimistic outlook on life. Yeah, the cancer that she had was going to kill her, but she looked at life so dark and bleak that I didn't understand why she was so morbid to those around her. However, as the story continues you get to see the world through her, and it's not at all like "normal" people would get. She gets special perks or cancer perks in this case because of who she is. It's like all her "rewards" or goals don't have to be earned, she just gets them. It's almost like the hope has been sucked out of her life.

That is until Augustus steps into her life and turns her whole world upside down. I love how he gives her hope in the most unusual way. As Augustus tries to worm his way into Hazel's heart, he pushes and pushes her, but it's done in such a normal unique way that gets into your heart. You know how he feels for her, and as much as she pushes him away and feels he pushes harder trying to convince her that she's worthwhile. The struggle between their relationship, as abnormal as it may be, just warms your heart. I love Augustus' persistence and drive to prove to himself to her and that they could be more.

Than we come to the part in the story in which everything becomes emotional. This book will make you cry, this book demands to be felt and John Green will agree with me. This book is just an emotional wreck that if you don't feel something at the end of this book. The emotional carnage of this book is just brutal and unimaginable. It's so great, and why I think this book is a must read in any young adults life.

Further this book just reminds me of the brutal reality sometimes. There are a lot of pain in the world that happens and we can't control it. This book explores that and shows just how cruel and emotional it is to cope and deal with it. With the author (I can't remember his name at the moment) is a prime example of how some of the expectations we hold don't always pan out. Green just captures some of he harshest parts of the world and shows just how they effect us.

So when I got dared long long time ago to read a contemporary romance novel, I wouldn't have been able to admit that I would actually be enjoying contemporary novels months later. I love how they take this helpless romantic view and just make me want to steal all of the experiences for myself. I know that some of the romance just isn't at all possible, frankly most of it, but when you are single it's just wishful thinking. The great part of the novels is just the swoon worthy originality in each novel. I love the hope that maybe there for me sometime, and this book is true to that as well, but in this case comes with the hardships and heartbreak.