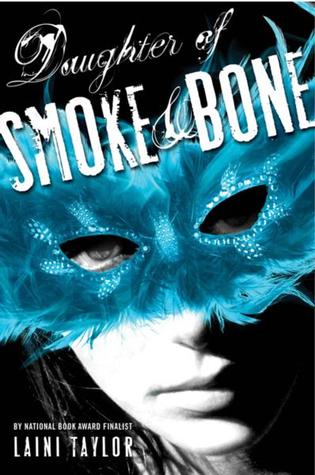 Around the world, black handprints are appearing on doorways, scorched there by winged strangers who have crept through a slit in the sky.

In a dark and dusty shop, a devil's supply of human teeth grows dangerously low.

And in the tangled lanes of Prague, a young art student is about to be caught up in a brutal otherwordly war.

Meet Karou. She fills her sketchbooks with monsters that may or may not be real, she's prone to disappearing on mysterious "errands", she speaks many languages - not all of them human - and her bright blue hair actually grows out of her head that color. Who is she? That is the question that haunts her, and she's about to find out.

When beautiful, haunted Akiva fixes fiery eyes on her in an alley in Marrakesh, the result is blood and starlight, secrets unveiled, and a star-crossed love whose roots drink deep of a violent past. But will Karou live to regret learning the truth about herself?
My Review:
Laini Taylor writes a novel unlike anything I have read before. There wasn't a lot of issues I found with this book, and frankly those are easily accepted. Daughter of Smoke and Bone has been highly talked about in the communities I am a part of, and frankly I was questioned why I hadn't read it yet. Well it's done and I am looking to binge finish the series sometime. I loved it, and how unique it was.

Karou was different, from her hair to the attitude and independent lifestyle she held. However she wasn't just some normal girl who lived in Prague. Yea she was an artist who drew the secret lifestyle she hid from everyone. It's done in a comic style, or what I think would be, however at times I tend to think it's just caricature drawings. Her secret lifestyle is a 'wishmonger' that's been her "father" for a long while. She lives in the real Prague but can exchange wishes (currency in her secret world), and is able to use doors to "teleport" to other places in reality (with the wishmonger's approval).

She is anything but normal, but so can be said of Akiva an angel of sorts. It's not your typical cute cuddly or nice angel, but a warrior bread and born to fight. Akiva runs into Karou and their meeting is anything but friendly. The romance that buds through the two is refreshing and is by far the best paranormal romance that I've read to date. The relationship that happens in this book is what I had an issue with. Akiva is just so blunt and their two lifestyles are completely different and clashes nearly constantly. Their differences and how they almost couldn't see past those, is what caught me. Its not a bad thing to have, and it's easily to look past.

Daughter of Smoke and Bone is by far a stand out novel, and while the series is promising, I just hope to see the series continue it's greatness. This isn't your traditional angel vs demon or chimaera book, and while Laini Taylor take these old fashioned ideas and often disliked cliched ideas, she turned those around and make them enjoyable and pleasant. I loved how this book was just refreshing to the genre and I can't wait to read more and I am highly looking forward to the next.

Laini Taylor writes this nearly perfectly, every sentence as thought and purpose in it. While the flow and pacing was perfect, and there was a slight bit of confusion and annoyances with the romance pieces in this book, my inner nerd was squealing with joy by the end of this book. It was great, refreshing and I just hope that all paranormal romances go as well as this, however that's doubtful.

There are only a few books that I would keep on my favorite list and they are usually 5.0 ratings. This is by far one of my favorite books, and while it's not a perfect rating, the uniqueness and how refreshing it is to read just give it that edge to make it on the list. Thank you Laini Taylor for your writing and I can't wait to finish the series.