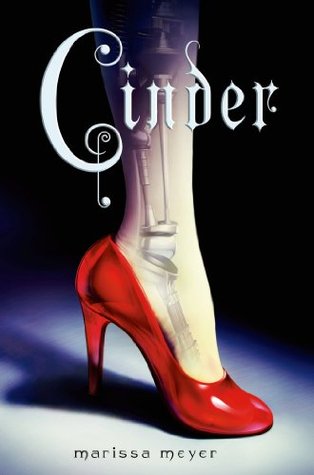 Title:
Cinder
Author:
Marissa Meyer
Series:
#1 -
Lunar Chronicles
Format:
Hardcover
Release Date:
January 3rd, 2012
My Rating:
4.5 out of 5.0
Humans and androids crowd the raucous streets of New Beijing. A deadly plague ravages the population. From space, a ruthless lunar people watch, waiting to make their move. No one knows that Earth's fate hinges on one girl.

Cinder, a gifted mechanic, is a cyborg. She's a second-class citizen with a mysterious past, reviled by her stepmother and blamed for her stepsister's illness. But when her life becomes intertwined with the handsome Prince Kai's, she suddenly finds herself at the center of an intergalactic struggle, and a forbidden attraction. Caught between duty and freedom, loyalty and betrayal, she must uncover secrets about her past in order to protect her world's future.
My Review:
Cinder was a book that I thought would surprise me and that it did. I wasn't expecting any of the sci-fi bits or the whole steampunk cinderella story that was retold in a magnificent way. The story of Cinder and Kai was just so engrossing that I found myself tearing through the book thoroughly before I realized the book was over. I sought out ever turn Cinder would take, and yearned to read more. Meyer does a fantastic job with the flow and every part of the character development.

First of all this is a fairy tale retelling and while there is some differences (some more obvious than others) but the differences make it so unique and so great that you'll just devour this book. The retelling part is of course Cinderella and well I wonder where the name Cinder came from. The family aspect of this retelling follows close, I flat out hated her mother. She pretty much abandoned Cinder and make her work for whatever the family needed. The sisters were mediocre, they just weren't around enough in the novel to make a notable decision on them.

Cinder is a famous mechanic and while she looks and wants to appear normal, she is a cyborg. Further the world she lives in is a bit poor, her "parents" are wealthy in the fact that make her work to pay for their lifestyles. Cinder's "father" is dead, and while he isn't exactly her father he's the one that saved her or took her home. While he's dead, the rest of the "family" blames her for the death.

Than there is Kai, a Prince of the city and while he is young and his father is sick with a world born plague, he's old enough to understand he's going to take the throne eventually. Further, he's just a great match and while he's looking for the cure to the Moon People's plague that they've unleashed on the city. It's enjoying to seeing him interact with Cinder, and while their relationship is cute and cuddly, their relationship is great and refreshing.

The story is great and while the rest of the book and the environment I found took second place to the relationship and character growth of the two. There was a part of the world that I found myself re-reading over and over trying to understand just what the world looked like. I enjoyed that and while it was a bit confusing at times, there was a depth to the story that made the book that much better. I just wish I could have read this book sooner, it was worth the read. Thank you for the recommendation to read this book, as well.