The Mortal Instruments: City of Bones by Cassandra Clare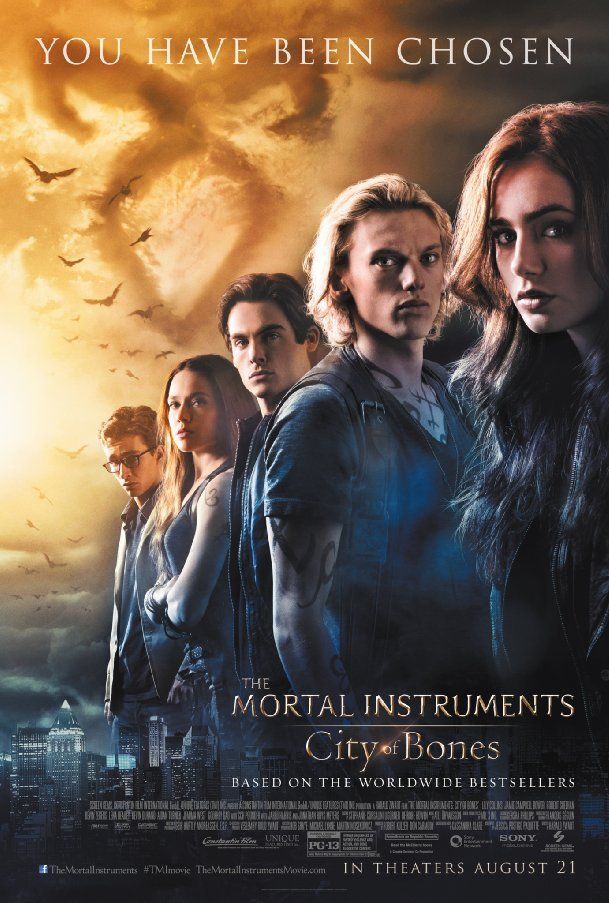 Title:
City of Bones
Director:
Harald Zwart
Author:
Cassandra Clare
Release Date:
August 21st, 2013
Rating: 8.5
Out of 10
When her mother disappears, Clary Fray learns that she descends from a line of warriors who protect our world from demons. She joins forces with others like her and heads into a dangerous alternate New York called Downworld.
From the Book:
When fifteen-year-old Clary Fray heads out to the Pandemonium Club in New York City, she hardly expects to witness a murder― much less a murder committed by three teenagers covered with strange tattoos and brandishing bizarre weapons. Then the body disappears into thin air. It's hard to call the police when the murderers are invisible to everyone else and when there is nothing―not even a smear of blood―to show that a boy has died. Or was he a boy?

This is Clary's first meeting with the Shadowhunters, warriors dedicated to ridding the earth of demons. It's also her first encounter with Jace, a Shadowhunter who looks a little like an angel and acts a lot like a jerk. Within twenty-four hours Clary is pulled into Jace's world with a vengeance, when her mother disappears and Clary herself is attacked by a demon. But why would demons be interested in ordinary mundanes like Clary and her mother? And how did Clary suddenly get the Sight? The Shadowhunters would like to know...

Exotic and gritty, exhilarating and utterly gripping, Cassandra Clare's ferociously entertaining fantasy takes readers on a wild ride that they will never want to end.
Review:
This is a hard one to judge. I found that I enjoyed it the first time I saw it, however when I went back and watched it for this review it was almost too much to handle watching it again. I am not sure if it's the fact I knew what going to happen and all the plot twists that made it almost unbearable. The actors were well placed, I thought for the having not read the book at all. Its on my shelf, don't worry I will get around to it.

Lily Collins as Clary just was fabulous, and while I frankly enjoyed her interpretation on the character I just didn't buy her all the way. As a girl who is starting to realize she's not just a normal humane (Mundane), that she could be a shadowhunter or more. There was just times in here character that she as sure of who she was and what she believed, but than at other times she just freaked out or was completely confused and lost. The main one was the lovely love triangle that just wasn't really a triangle.

Jamie Campbell Bower as Jace was a bit lackluster. I was kind of looking for more in the character and while I think the interpretation was good. I just wasn't sure where he stood. Most of his character was a mystery and frankly diving more into him in the movie I wasn't sure if it would have been allowed with the time constraints. The chemistry between Jace and Clary just didn't seem to be there at all, but if you buy into it the end just straight up confuses you.

Kevin Zegers as Alec was just worse. Playing a guy who frankly is so shy or patient with Clary that by the time he realizes she's almost lost does he open up and communicate with her. Its almost like he's too late or doesn't want her till she's gone. Alec is so weak and almost helpless to the plot that him being there is by far the most annoying bit of the movie. It's like Peach in Mario, he's useless asides a love interest and it makes me sad to feel that way about his character.

City of Bones, frankly I am not sure what part of the Shadow World it was part of, or if it really exists. I am so confused on what it is, and this is why I usually read the book before watching the movie. You tend to get more plot points or more visual information than what Hollywood can actually portray in a movie. I am not saying that is a negative part of the movie, just it confused me.

The whole Shadow Hunter world has to be massive, yet there only seems to be handful of them. I just don't understand, and maybe that'll be explained better in a different novel or movie, whichever. It doesn't make sense that only five-seven Shadowhunters exist in total when there used to be or was far more. It's the little things like that, slowly throughout the movie, that ground on my nerves. For instance the instance in which werewolves knew where the Vampires and Shadowhunters were fighting.

While I did enjoy this the first time through, I wasn't so sure about the movie the second way through it. I wanted to enjoy it as much or more through both views, and that's probably the point that drove the rating down some. If you can't watch the movie over and over, or you don't enjoy it enough that you want to see it again, that's just hard to face. I wanted so much to enjoy this more, the book is so great and the reviews are staggering. Its sad to see that about the movie. I am hoping they do a sequel to this movie, I wish.