If I Stay by Gayle Forman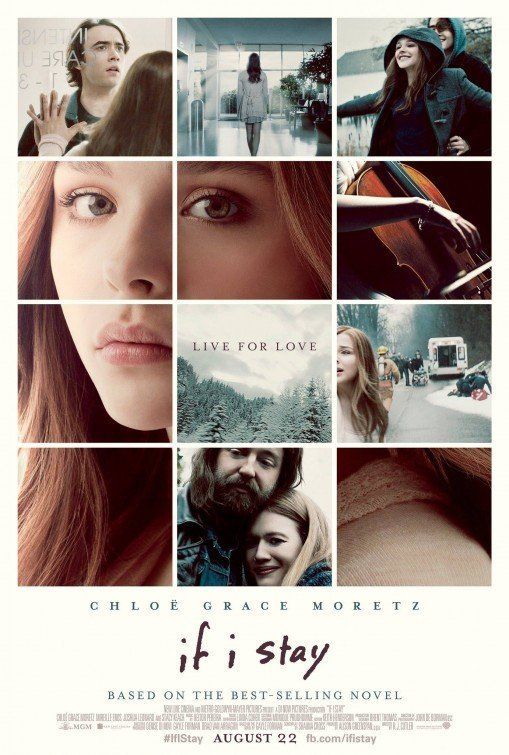 Title:
If I Stay
Director:
R.J. Cutler
Author:
Gayle Forman
Release Date:
August 22nd, 2014
Rating: 8.5
Out of 10
Life changes in an instant for young Mia Hall after a car accident puts her in a coma. During an out-of-body experience, she must decide whether to wake up and live a life far different than she had imagined.
From the Book:
Just listen, Adam says with a voice that sounds like shrapnel.

I open my eyes wide now.
I sit up as much as I can.
And I listen.

Stay, he says.

Choices. Seventeen-year-old Mia is faced with some tough ones: Stay true to her first love—music—even if it means losing her boyfriend and leaving her family and friends behind?

Then one February morning Mia goes for a drive with her family, and in an instant, everything changes. Suddenly, all the choices are gone, except one. And it's the only one that matters.

If I Stay is a heartachingly beautiful book about the power of love, the true meaning of family, and the choices we all make.
Review:
Chloë Grace Moretz acted her brains out on this movie. While If I Stay didn't top the charts like I thought it might, the numbers it put up at the box office were respectable and need to be recognized. Going toe-to-toe with Teenage Mutant Ninja Turtles and Guardians of the Galaxy, two movies that just don't seem to die off in popularity, If I Stay rounded at No. 3 this week. Now this is by far one of my favorite movies of the near and to be frank I am not sure if it beats The Fault in Our Stars yet.
Chloë Grace Moretz (Mia Hall) and Jamie Blackley (Adam) play two of the most romantic high school couples, but it is a haunting tale of choices we all make. My review on the book is here, and I really didn't notice any changes from the book to the movie. I wasn't sure if there was sex in the book or I was reading it wrong. Their parents weren't how I envisioned them, but these worked better and gave the feel of this regular family.
Well we all know the story of this, and for those that don't. Mia is an extraordinary cello player, far beyond a normal high schooler's level. Her boyfriend is a punk rockstar that's growing in popularity and while they fall in love, their first love is music and that's where their hearts lay. However one day, the snow cancels school and they decide to go their grandparents. On the way they end up in a car accident that leaves everyone in the hospital fighting for their life.
Back to the movie, the main issue I had with it, was me being old. They had sex in the movie and for a movie whose main audience is high school teenagers. This is going to make me sound old, but promoting sex to teenagers isn't something we should be promoting. There are better things they could have done instead to show they were in love with each other. I know that it happens in real life, but it's not something we should be advocating. What I didn't like about it though was the fact that their parents seemed okay with it.
The whole flashbacks in the movie, while some of it was cheesy, tied the emotions together in this movie. While I was hoping to see more of the present with Mia in the hospital. Adam role in the movie was primarily the flashbacks. I was hoping to see more of him presently, and the bands that help support him. The family is sort of confusing to get straight and know who is who. But when everything is figured, they feed in the emotion.
The emotion in this movie is unbelievable, how everyone in Mia's family feels sorry and doesn't want to lose her. She makes her choice, and while I am not sure I agree with her choice, it can't be an easy one to come to. Adam's the one that just broke my heart. Their flashback when they start to realize that Mia and Adam are heading in different directions. He's completely broken.
The best part was the movie was Mia's grandfather flashback. Watching her do her Julliard recital and being in complete awe. It's magnificent to see that, and you get the feeling that he's watching his own granddaughter. But the best part is the speech he gives to Mia, its the most emotional talk I've heard of. I don't think you can act this way, it's remarkable and by far the best acting I've seen.
This movie was an emotional rollercoaster. If you want something that will touch your soul and change your life this is your movie. Frankly it's impacted me and the sequel did as well. Gayle Forman, this was a beautiful movie and I applaud you and anyone who help make this reality. The question I have is has Where She Went been picked up? I want to see what happens to Mia, the relationship with Mia and Adam and more of Adam. He was the one that I enjoyed, and hated, the most in the movie.