The Book Thief by Markus Zusak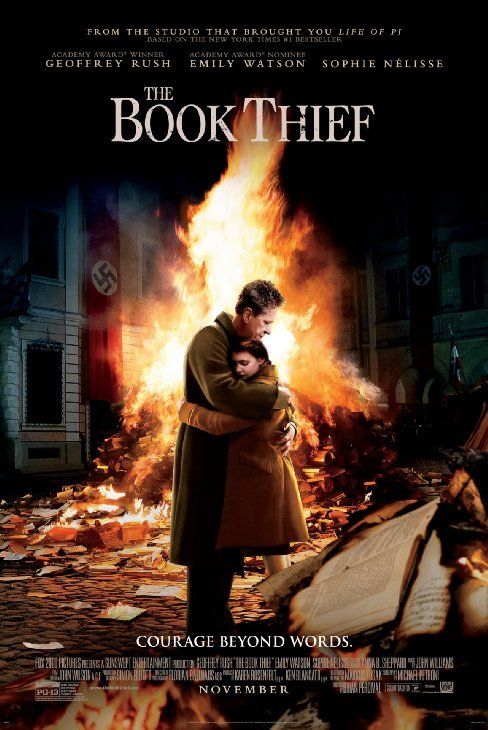 Title:
The Book Thief
Director:
Brian Percival
Author:
Markus Zusak
Release Date:
November 27th, 2013
Rating: 8.0
Out of 10
While subjected to the horrors of World War II Germany, young Liesel finds solace by stealing books and sharing them with others. In the basement of her home, a Jewish refugee is being sheltered by her adoptive parents.
From the Book:
It's just a small story really, about, among other things, a girl, some words, an accordionist, some fanatical Germans, a Jewish fist-fighter, and quite a lot of thievery.

Set during World War II in Germany, Markus Zusak's groundbreaking new novel is the story of Liesel Meminger, a foster girl living outside of Munich. Liesel scratches out a meager existence for herself by stealing when she encounters something she can't resist: books. With the help of her accordion-playing foster father, she learns to read and shares her stolen books with her neighbors during bombing raids - as well as with the Jewish man hidden in her basement before he is marched to Dachau.

This is an unforgettable story about the ability of books to feed the soul.
Review:
The Book Thief was one of those movies that surprised me with the quality of the movie as it went on. I wanted it to be something clearly different. The cast was perfect, and while it wasn't your typical top notch blockbuster cast, it fit the movie perfectly. Sophie Nélisse as Liesel was beyond great, while her acting may not have been the best, it was perfect for what the movie needed.

Liesel was this brilliant girl who while she was sold/abandoned by her mother, and given up to a couple, Hans (Geoffrey Rush) and Rosa (Emily Watson) Hubermann. Rosa was this women who had rather lofty expectations of her children and while Liesel may not have been what she wanted and she was a bit hard on her, she still loved and cared for her. Hans was another story, he tended to be the goofy one that cared for her and treated her like a father.

Liesel while in the beginning didn't know how to read/write through the help of a friend, Hans, and even the slight bit of romance with Rudy Steiner (Nico Liersch). The growth of Liesel and how she views the world makes this movie better, but a swell the relationships that she slowly forms over the duration of the movie. I wanted more of her and how she strives to learn and read more often than anything. She views reading and books as salvation and life. This is conveyed with friend that Hans takes in and helps get back on his feet, when he becomes deathly ill she reads to him in attempt to keep him alive.

The romance or what attempt at it was Liesel and Rudy which was rather lopsided. I viewed it more as how young children form ties and friendships. I don't see it as the romance or typical adult romance that normally forms. It wasn't an issue, but the ending when Rudy tries to tell Liesel he's in love with her was a bit much. It wasn't needed at all, you get the idea that they care about each other. Removing that innocence isn't necessary with the story that's being conveyed.

The story is simple with almost no antagonist, about Germany in the middle of World War II. While it takes the perspective of the Germans, it's the civilians not the Nazis at all. The general feel of the society was that the civilians would be like any country and don't want to go to war. That or the information they are being given isn't exactly all truthful. Granted there are some that are the Pro-Nazi, but those give the vibe the movie needs to feel torn between war and peace. The pure innocence of Liesel and the civilians and how fearful they are to stand up and fight for what they want, in regard to being forced into the military or worse. It's sad to see it, and while I know it's a movie, I have to believe there is some stock of truth in how they felt during that time.

The Narrator was rather good in a case like this, it wasn't that much of an annoyance like it can be in some movies. I found that the backdrop of information and guiding the viewer along was good, however there were cases where what he was rambling about was more than anything useless. Further I just couldn't buy the mature relationship that Liesel and Rudy was nearly forced into. It just took away from how great they were, and I wanted them to stay pure and untainted, but I guess in wars of that caliber maybe that's not what happens.

If you want something slow relaxing and don't mind a bit of character building, this is a rather great movie. It's not what you expect at all, but it's different and relaxing. If you want something action packed, comedy, or well anything not history or contemporary related, I wouldn't suggest this movie. It has some parts, but ideally this movie for those who enjoy watching growth, and how Liesel disobeys some of the warnings and using what she knows or resourcefulness to try to save the ones she cares about. She's a great character and portrayed really well.