Flashback Friday is a weekly event, hosted here, that highlights a past release that we're dying to get our hands on...
See something you like here?
Click the book title to add it to your Goodreads TBR List!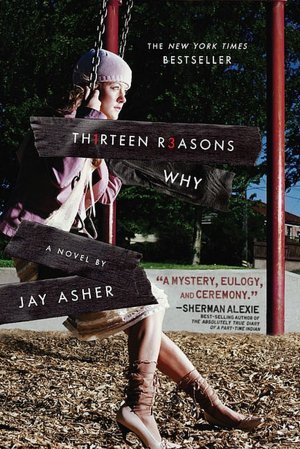 Clay Jensen returns home from school to find a mysterious box with his name on it lying on his porch. Inside he discovers thirteen cassette tapes recorded by Hannah Baker, his classmate and crush who committed suicide two weeks earlier.
On tape, Hannah explains that there are thirteen reasons why she decided to end her life. Clay is one of them. If he listens, he'll find out how he made the list.

Through Hannah and Clay's dual narratives, debut author Jay Asher weaves an intricate and heartrending story of confusion and desperation that will deeply affect teen readers.
My Stance:
Frankly I am kicking myself at the moment. I found this hardcover at a local Half Price bookstore. And while I wanted to pick it up, I didn't. It made me sad at the end of the week when I went back to get it and it was gone. I am still kicking myself weeks afterwards. It had a price sticker on the back dust jacket and it was all gooey and I probably could have maybe gotten it off and had a halfway good book, I just didn't want to risk destroying it. However still... I wanted that book :(

This book reminds me of Tease sorta. Not the whole bullying part, but the suicide and than pointing the blame at someone. Clay must be more than anything surprised to find the tapes. However the grief and self blaming that it would come with the box as well. I can say I wouldn't blame him if he did, it would be a devastating blow. I'm not sure if I would even have the courage to listen to the tapes. Especially to find out why she killed herself.

Further for the sake of saying it I don't see why 13 reasons is enough to kill yourself. I mean they must be some pretty big reasons to get to that conclusion. If they turn out to be pretty petty, it's going to be a disappointment. However from what I have seen from some of the reviews, that won't be the case. I hope the book is as good as what people give it credit. I have been looking for that contemporary book that not only rips my heart open, but makes me feel for the characters. This seems like the case.