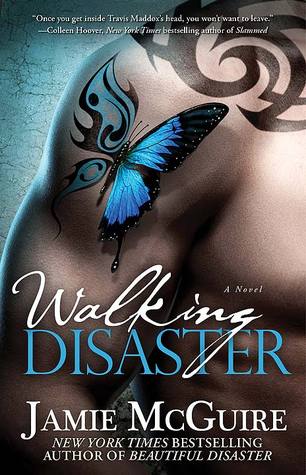 Finally, the highly anticipated follow-up to the New York Times bestseller Beautiful Disaster.

Can you love someone too much?

Travis Maddox learned two things from his mother before she died: Love hard. Fight harder.

In Walking Disaster, the life of Travis is full of fast women, underground gambling, and violence. But just when he thinks he is invincible, Abby Abernathy brings him to his knees.

Every story has two sides. In Beautiful Disaster, Abby had her say. Now it's time to see the story through Travis's eyes.
My Review:
Walking Disaster was a book that I never really thought would wow me the way it did. Frankly I didn't expect to enjoy Travis as much as this book did. This furthers the tale of Abby and Travis, but mainly Travis. Now I would like to point out this is more of a companion novel and not necessary a stand-alone. I'll get more into that as I go, but It's how the inside of Travis works that makes this story work and just ooze romance.

The start of the book is the Maddox family standing around their mother on her death bed. That scene stuck around with me the entire time, and while it's haunting it shapes who Travis is entirely. He loves his mother so much that when she dies, he doesn't believe he can love again. That shapes the full blown badass that he is, he doesn't trust anyone with his heart, he doesn't make the effort to, and that's honestly more sad than aggravating. I know it's not an excuse at all, he still has a choice to not hurt or use anyone like he does, but he holds his grief rather close to his heart.

In Beautiful Disaster you never see that soft side of Travis or just how he reacts to what Abby does to him. I found that yeah, he's rash, yeah he jumps to things faster than maybe what Abby is even interested in, but it's that idea that spontaneity that makes people want. Of course not the complete total jealousy package, which I did find still an issue with Travis in general. Frankly Travis is just that type of person though, I mean that's what his character believable and gives him that flaw.

Further there are scenes in this book that frankly aren't there in Beautiful Disaster. However in order to add those McGuire jumps around the storyline already told in the previous book. They follow similar timelines, so while some of the lesser information/events aren't told. While there are bits missing, I found that I had a bit of confusion with the timeline jumping around. Further this lack of detail and how some of the events (even if they are smaller) just disjoints the book, I had to go back to Beautiful Disaster and remind myself what was going on, what was Abby thinking just so I wouldn't stay confused.

Now I am going to dive into a comment I read and made a statement on in my Beautiful Disaster review. I had read that some people thought Travis was obsessive, commanding, and almost abusive with Abby. I disagreed with it than, and I this book strengths that stance. He acts because frankly he doesn't believe he can love anyone and makes no effort before Abby. Yeah he's an ass than. However after Abby he changes and its because of her that he tries harder to be what she deserves. The scene where he destroys his room after Abby leaves, is a prime example of the emotion he goes through. Yeah it's a bit extreme and while I don't see it normally happening it's because he flat out loves her. What was probably racing through his head was another girl who left and broke his heart (like when his mother died).

The inside workings of Travis shine throughout this book, and while there are times where you question his motives he's still a great guy who tries to be more than what's expected of him. Travis's point of view on the story is something I've wanted to see, and frankly I would love to see more of this done with Jamie's books. (Give me a Trenton Perspective NOW! :P) This frankly started a new romance kick in me in which I want to read more romance book of similar style. Thank you Jamie for this, and I hope to read more.