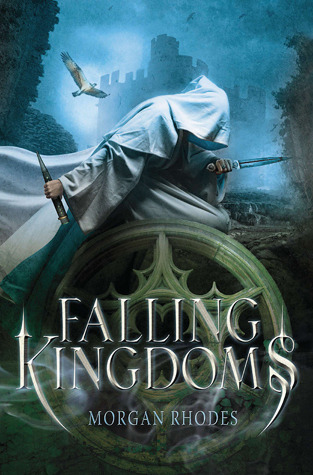 In the three kingdoms of Mytica, magic has long been forgotten. And while hard-won peace has reigned for centuries, a deadly unrest now simmers below the surface.

As the rulers of each kingdom grapple for power, the lives of their subjects are brutally transformed... and four key players, royals and rebels alike, find their fates forever intertwined. Cleo, Jonas, Lucia, and Magnus are caught in a dizzying world of treacherous betrayals, shocking murders, secret alliances, and even unforeseen love.

The only outcome that's certain is that kingdoms will fall. Who will emerge triumphant when all they know has collapsed?

It's the eve of war.... Choose your side.

Princess: Raised in pampered luxury, Cleo must now embark on a rough and treacherous journey into enemy territory in search of magic long thought extinct.

Rebel: Jonas, enraged at injustice, lashes out against the forces of oppression that have kept his country cruelly impoverished. To his shock, he finds himself the leader of a people's revolution centuries in the making.

Sorceress: Lucia, adopted at birth into the royal family, discovers the truth about her past—and the supernatural legacy she is destined to wield.

Heir: Bred for aggression and trained to conquer, firstborn son Magnus begins to realise that the heart can be more lethal than the sword...
My Review:
The Falling Kingdoms was a book that I picked up and read on a simple Fantasy kick. I wanted something new and well, far different than what I have been reading. It has been sitting on my shelf for a while and I think I featured it in a readers choice poll once and I can't remember if it won or not. It should have. It took me by storm and while I wasn't looking for a new high-fantasy book to fall in love with. I did here.

This book was far more than just a simple fantasy, the political battles, romance, magic and even some of the smaller bit of background lore for a bit of spice and character. However Rhodes takes some more gruesome and enlightening stances with her characters and isn't afraid to show their flaws and just how vibrant and well-rounded they are. There are times in the book where the point of view changes and while you may enjoy Cleo from her own perspective, but from Jonas or Magnus her character is completely different and changes her character. Your perspective and thoughts on a character will change throughout the book.

While I would love to talk about specific characters, there are just too many and how the perspectives change throughout the novel. The kingdoms (Limeros, Paelsia, and Auranos) are in a state of peace, but there is trouble brewing. The story starts with Cleo and her betrothed Aron (who she doesn't want to be with at all) are negotiating a price for wine. And long story short, one of the wine traders family dies in the altercation. The whole story and start of a revelation changes from there.

Further the love and relationships in this book, although one being a bit on the odd side, they were the part that brought some of the characters to life. Cleo for one, I thought wasn't going to amount to much, but with her sister and the guard she wanted to be with, frankly it brought a new shade to her character that I never saw there before. Further Jonas and how he felt after the loss of his brother, even Magnus after being nearly shunned by Lucia was what brought their true characters into the open. Rhodes did a good job of keeping some of their more stronger personalities hidden that when the characters get put through hell, they still have something to make your eyes widen and ponder what's next.

What I loved most about this novel was how great Rhodes was at molding the characters in this dynamic plot. The plot and how the characters interacted, yes even though Magnus may be a bit incestuous. Now don't get this wrong, Lucia really isn't his sister, but they were raised from a very young age that they were. They fully believe they are. So it's still incestuous, but Lucia doesn't seem him in the same way that Magnus does. It's the simple, and slow building of the characters and how they come out that make them unique and her own.

I would greatly recommend this for anyone that enjoys The Game of Thrones. While it's not as dark or (for me) hard to follow with the differing perspectives and time. This is by far one of my best Fantasy novels of the year. And don't completely write this book off, this book surprised me completely and while I wasn't expecting this book to be as good as what it was, I was glad to finally get to read it and dive into it.

Rhodes, great job on this, I have the rest of the series and I will get around to reading them. Great job!