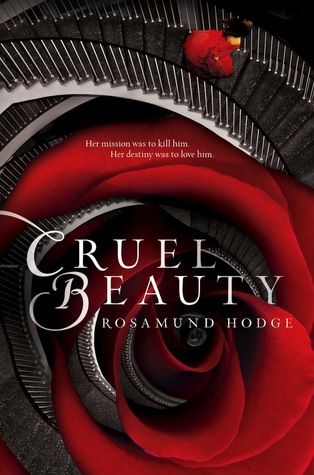 Graceling meets Beauty and the Beast in this sweeping fantasy about one girl's journey to fulfill her destiny and the monster who gets in her way-by stealing her heart.

Based on the classic fairy tale Beauty and the Beast, Cruel Beauty is a dazzling love story about our deepest desires and their power to change our destiny.

Since birth, Nyx has been betrothed to the evil ruler of her kingdom-all because of a foolish bargain struck by her father. And since birth, she has been in training to kill him.

With no choice but to fulfill her duty, Nyx resents her family for never trying to save her and hates herself for wanting to escape her fate. Still, on her seventeenth birthday, Nyx abandons everything she's ever known to marry the all-powerful, immortal Ignifex. Her plan? Seduce him, destroy his enchanted castle, and break the nine-hundred-year-old curse he put on her people.

But Ignifex is not at all what Nyx expected. The strangely charming lord beguiles her, and his castle-a shifting maze of magical rooms-enthralls her.

As Nyx searches for a way to free her homeland by uncovering Ignifex's secrets, she finds herself unwillingly drawn to him. Even if she could bring herself to love her sworn enemy, how can she refuse her duty to kill him? With time running out, Nyx must decide what is more important: the future of her kingdom, or the man she was never supposed to love.
My Review:
Cruel Beauty was by far one of my more unique reads and it stands out amongst all the new books this year. While I haven't really gotten into many books this year, this is a great sign for the beginning of the year. The pace of this book kept your eyes glued to the pages and the way you want to see what's happening next, and solve the mystery of the castle keeps the pages turning. Further the love for this book was beyond anything I could say. There was times in which I found myself feeling sorry for Nyx, the mix of emotions that this book instills is great.
Nyx is this great character, and like most of the top books that I enjoy have these strong protagonists and Nyx is no exception. She's born from a deal with the Gentle Lord of their village. Nyx's mother is barren and her father makes a deal with the Gentle Lord for her to have children, however in doing so, she dies in childbirth. The other part of the deal though was that a child would be given to the Gentle Lord, and Nyx is the child that her father doesn't like. She knows she's a sacrifice and is raised to be a weapon to kill the Gentle Lord. She goes into the "marriage" angry and afraid at the same.
Ignifex, The Gentle Lord is known for the double-sided deals that he makes. He's known as the ruler of the village for centuries. He's got the blood of innocent people on his hands, and frankly he isn't bothered by it. He's extremely arrogant, and the other side of his character was light and a darker side of humor that lightened the mood. The one great thing about his character is the realization that not everything is black and white, his character is a dichotomy of how people have multiple layers that aren't all rainbows.
The story just blew my mind, and while I was looking at the Goodreads description I thought this would be another simple Fairy Tale retelling. Boy was I wrong. This book surpassed everything I thought the book would be and the layers upon layers of environment, character growth, relationships with something more just underneath the surface. The twist on the mythology with some greek mythology as well, just pushes the bitter dark tone of the entire book into a easy 5.0 rating. There is a great part of this book that I devoured and loved greatly. There wasn't much to complain about in this book, it was solid and well formed.