Flashback Friday is a weekly event, hosted here, that highlights a past release that we're dying to get our hands on...
See something you like here?
Click the book title to add it to your Goodreads TBR List!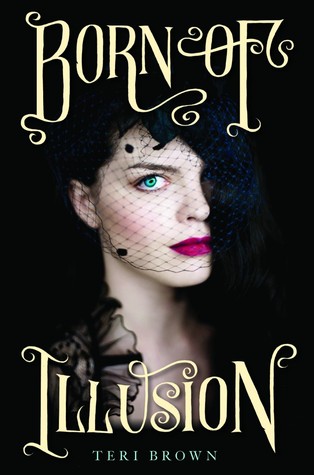 Anna Van Housen has a secret.

A gifted illusionist, Anna assists her mother, the renowned medium Marguerite Van Housen, in her stage show and séances, easily navigating the underground world of magicians, mediums, and mentalists in 1920's New York. As the illegitimate daughter of Harry Houdini—or so Marguerite claims—sleight of hand illusions have never been a challenge for Anna. The real trick is keeping her own gifts secret from her opportunistic mother. Because while Marguerite's own powers may be a sham, Anna possesses a true ability to sense people's feelings and foretell the future.

But as Anna's powers intensify, she begins to experience frightening visions of her mother in peril, which leads her to explore the powers she's tried so long to hide. And when a mysterious young man named Cole moves into the flat downstairs, introducing Anna to a secret society that studies people with gifts like hers, she is forced to confront her past and rethink everything she's ever known. Is her mother truly in danger, or are Anna's visions merely illusion? And could the great Houdini really be her father, or is it just another of Marguerite's tricks?

From Teri Brown comes a world bursting with magic, with romance, and the temptations of Jazz Age New York—and the story of a girl about to become the mistress of her own destiny.
My Stance:
Frankly I saw this book at one time, or something similar to the name, and while I don't understand or frankly know what the purpose of the story is supposed to be. However at the same time, being the daughter of Houdini tends to give you those sort of illusions and lifestyle. What is the point of all that grandeur though? I mean, with the question of her father in the air, and the assumption that Houdini is that; I wouldn't expect anything else than the illusions and the slight of hands. As well, the underworld and the secrecies are there and expected, however Anna's secret is far greater and much more puzzling than any magic trick.

Anna's secret is almost of a clairvoyance of nature, however when her visions start to become of her mother and not like she's used to, her view on the normality of the world changes. The boy that moves in under her, Cole, makes that line even more blurred when a society comes into view. A world that she doesn't know about, and frankly I find that hard to believe, I mean if you look and have the access she would have had.

The story of Anna, makes this unique and while I wish there was more the synopsis, that alone makes me want to read the story and find out about her. I was hesitant to pick up the book because of the topic, and how confused I was to the story. I wasn't sure what to expect out of it, and while I looked at it again, I saw something I didn't see before. I wanted a book that not only piqued my interest, but I was on the fence about. Ultimately I wanted a book that I could change my view on it initially, and enjoy it through and through.