Flashback Friday is a weekly event, hosted here, that highlights a past release that we're dying to get our hands on...
See something you like here?
Click the book title to add it to your Goodreads TBR List!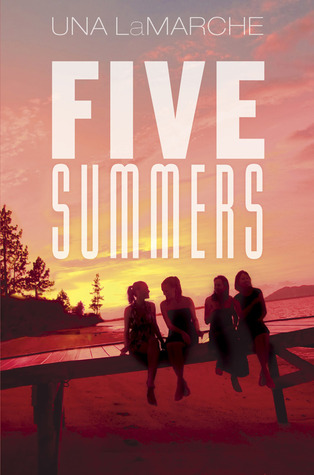 Four best friends, five summers of camp memories.

The summer we were nine: Emma was branded "Skylar's friend Emma" by the infamous Adam Loring...
The summer we were ten: Maddie realized she was too far into her lies to think about telling the truth...
The summer we were eleven: Johanna totally freaked out during her first game of Spin the Bottle...
The summer we were twelve: Skylar's love letters from her boyfriend back home were exciting to all of us—except Skylar...
Our last summer together: Emma and Adam almost kissed. Jo found out Maddie's secret. Skylar did something unthinkable... and whether we knew it then or not, five summers of friendship began to fall apart.

Three years after the fateful last night of camp, the four of us are coming back to camp for reunion weekend—and for a second chance. Bittersweet, funny, and achingly honest, Five Summers is a story of friendship, love, and growing up that is perfect for fans of Anne Brashares and Judy Blume's Summer Sisters.
My Stance:
This is a book that I have seen everywhere. I can't seem to escape it, and while I am not a girl I like this genre at the moment. The whole character growth and watching as problems seem to work themselves out and the people deal with their situations and hardships just get my blood going. I know it sounds lame and almost too chick-oriented, but hey guys can enjoy chick lit too. Granted it's probably one of my more preferred genres, some of the others are just lacking at the moment (I haven't found one I can sink my eyes into).

Five Summers seems like a great novel of four girls whose whole world starts to crumble summer after summer. It makes me wonder what comes between the four. It can't be boys, I mean that'd be too easy and predictable. I can see it being part, but not the whole thing. The premise seems sound, I am worried that the part that drove them all apart is going to be so weak that I'm not going to buy into it. I hope to find out sometime.