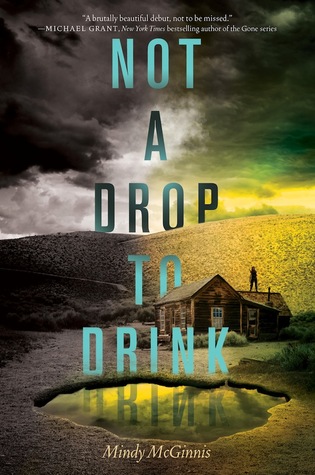 Regret was for people with nothing to defend, people who had no water.

Lynn knows every threat to her pond: drought, a snowless winter, coyotes, and, most importantly, people looking for a drink. She makes sure anyone who comes near the pond leaves thirsty, or doesn't leave at all.

Confident in her own abilities, Lynn has no use for the world beyond the nearby fields and forest. Having a life means dedicating it to survival, and the constant work of gathering wood and water. Having a pond requires the fortitude to protect it, something Mother taught her well during their quiet hours on the rooftop, rifles in hand.

But wisps of smoke on the horizon mean one thing: strangers. The mysterious footprints by the pond, nighttime threats, and gunshots make it all too clear Lynn has exactly what they want, and they won't stop until they get it….

With evocative, spare language and incredible drama, danger, and romance, debut author Mindy McGinnis depicts one girl's journey in a barren world not so different than our own.
My Review:
Not a Drop to Drink surprised me at every turn and while each page wasn't action packed or held the immense dystopian feel, it was still a dystopian. While most dystopians struggle to get that end of the world in a blaze of fire and glory, what you don't usually see is the one that's subtle and ever changing. This book takes what everyone sees for granted and pits it in their stomach and twists it into a tale of survival. I enjoyed this book for that subtlety.

Lynn and her mother live alone, lost from all civilization in a house all of their own. The grass is overgrown, the pond in their backyard is marked, and daily water is skimmed from the bank, grass, and anything possible. Water is their salvation and their death. It's the one things that's questionable in survival, water is a commodity people don't see everyday, and when it comes to it, is life or death. Having grown up together, they are completely different, yet at the same time important to each other.

When it comes down to it, they both understand that the water is their survival. In order to defend it and their livelihood, it's a shoot first ask questions later mentality. Their isolation causes confusion in just who the enemy is. Animals, monsters in the night, or someone that knows just how to shoot a gun. And in one tragic night the world she sees turns on its head. I understand that choices were to be made, but in that night those weren't available.

Going forward the book takes a snow miserable journey done a coming of age take of Lynn. Just who she is and the world she chooses to live in. The choice of helping a new found group that lives not that far away, near a river, or live in solitude with a friend, to her and her mother. The friend has a few secrets of his own, but visiting every so often to make sure Lynn is alright. The characters were well balanced and creative. However, I wanted more romance in this book than what was provided.

The subtlety of this book, the madness of a dystopia it was drove me to enjoy it as much more of a novel than what I expected it to. Lynn was terrific and while I expected much more of a romance out of Lynn. It was tragic and heartbreaking to watch Lynn grow throughout the book. However it left you with that cliffhanger that begs for more. Mindy McGinnis created a debut unlike anything else. Even if you have read a dystopian before, it won't be anything like this. Not a Drop to Drink's story and subtle environment creates a world and story far beyond any expectation.