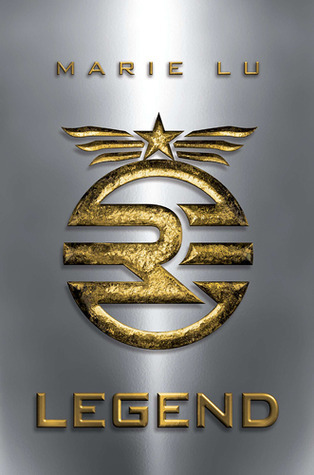 Title:
Legend
Series:
Marie Lu
Series:
#1 -
Legend
Format:
Hardback
Release Date:
November 29th, 2013
My Rating:
4.5 out of 5.0
What was once the western United States is now home to the Republic, a nation perpetually at war with its neighbors. Born into an elite family in one of the Republic's wealthiest districts, fifteen-year-old June is a prodigy being groomed for success in the Republic's highest military circles. Born into the slums, fifteen-year-old Day is the country's most wanted criminal. But his motives may not be as malicious as they seem.

From very different worlds, June and Day have no reason to cross paths - until the day June's brother, Metias, is murdered and Day becomes the prime suspect. Caught in the ultimate game of cat and mouse, Day is in a race for his family's survival, while June seeks to avenge Metias's death. But in a shocking turn of events, the two uncover the truth of what has really brought them together, and the sinister lengths their country will go to keep its secrets.

Full of nonstop action, suspense, and romance, this novel is sure to move readers as much as it thrills.
My Review:
Legend, WHY hadn't I read this sooner? I have to say I missed out on a great book and wished I had gotten to this sooner. I enjoyed this dystopia, and while it seems like lately all I am reading is dystopians. However I find that this is getting overcrowded and finding a good dystopian is harder and harder to come by lately. Legend isn't one of those books, and while I will say that it's good, I can understand why some people may not enjoy it as much, and won't like it.

First of all the characters were great, June and Day share the book alternating their perspectives and their world. Coming from completely different interactions, they are bound to collide after a while, and their world begs for them to. I love their dynamic relationship that forms, but there is a secret they both hold, and while keep those secrets, the tension is almost stifling between the two.

June is a part of the Republic, a new government trying to control and monitor all of it's people. While the districts of it's town are plagued with a, well plague, they can't provide enough cure to the entire population. I got the purpose of that plague right away (read it if you want to know), I just wish there was a better explanation. June is built into the military, like her brother, and she tries to think just like the rebels threatening their Republic.

Day is a complete bipolar character to June. He is considered part of the rebels, however he has no affiliation with them. He attacks and steals from the Republic to feed his family, and when his brother becomes sick with the plague he turns desperate. His mother believes he's dead, and doesn't know where the gifts come from, which is sad in itself. When the time comes, he comes face to face with June's brother, and the whole story turns on it's head.

The first issue with the book came next. After the face to face with June's brother and Day, June's brother ends up dead with one of Day's daggers in his chest. When June is faced with the evidence, she jumps from A to B instantly concluding that Day is guilty. While yeah I would be devastated, Day hasn't killed anyone in the past, why would he start there. There was a reason, or he didn't do it at all. When she actually confronts him about it later in the book, he denies it and she doesn't believe him. I just don't buy it, why doesn't she question anything. It's so hard to believe.

Next the worldbuilding is a little lackluster, and I am holding out hope for the next novels to pick it up and run with the building. It got better near the end, just wasn't what I was hoping for. There really isn't anything going into the Republic. While I wanted to know more of the city, what was there gave my mind and imagination to fill in the holes and aid in the creative world building. I found that enjoyable, while most may not, I like the free idea to help world build and add my own personal touch to the story.

While some parts of this book was a bit underwhelming, I found that those were able to be looked past with the great story telling. The writing style was great with the dual perspectives, and is probably one of the better duals I have read lately. I didn't expect this to be as good as it was, I fully expected something different. I can't wait to get into the next book.