Stacking the Shelves is hosted by
Tynga's Reviews
and is all about sharing the books you are adding to your bookshelf, be it the physical one or your digital one!

So I am not sure if this is coming out on time or not. I have scheduled it and I hope it does. I am a bit preoccupied reading and playing games for the moment, aside working. The light is slowing coming into view on when I will actually be moved back to days and get to read and post more frequently. I will also be very glad to get the job I was hired for back, but in the mean time I am still looking for something in print media and ultimately allows me to do what I enjoy.

Also with BEA 2014 wrapped up or wrapping up, I hope to see some great images (on twitter or well anywhere) and see what I missed in the book-sphere. Further we have the Opening weekend this week for "The Fault in Our Stars" which I will be going to and watching (maybe not opening night but still). I hope to get a good review out by early next week or on Sunday, not sure. Either way I have high hopes for the movie and the stars in it.

So without further adieu:
Shelf Additions:
The hunter becomes the hunted. . . .

West Grayer is done killing. She defeated her Alternate, a twin raised by another family, and proved she's worthy of a future. She's ready to move on with her life.

The Board has other plans. They want her to kill one last time, and offer her a deal worth killing for. But when West recognizes her target as a ghost from her past, she realizes she's in over her head. The Board is lying, and West will have to uncover the truth of the past to secure her future.

How far will the Board go to keep their secrets safe? And how far will West go to save those she loves? With nonstop action and surprising twists, Elsie Chapman's intoxicating sequel to Dualed reveals everything.
---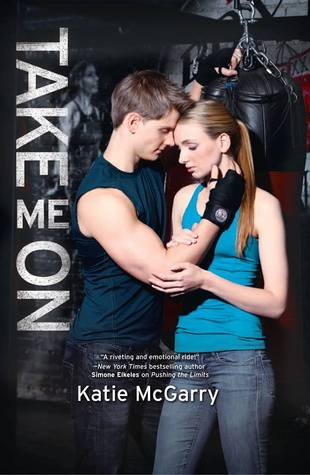 Acclaimed author Katie McGarry returns with the knockout new story of two high school seniors who are about to learn what winning really means.

Champion kickboxer Haley swore she'd never set foot in the ring again after one tragic night. But then the guy she can't stop thinking about accepts a mixed martial arts fight in her honor. Suddenly, Haley has to train West Young. All attitude, West is everything Haley promised herself she'd stay away from. Yet he won't last five seconds in the ring without her help.

West is keeping a big secret from Haley. About who he really is. But helping her-fighting for her-is a shot at redemption. Especially since it's his fault his family is falling apart. He can't change the past, but maybe he can change Haley's future.

Hayley and West have agreed to keep their relationship strictly in the ring. But as an unexpected bond forms between them and attraction mocks their best intentions, they'll face their darkest fears and discover love is worth fighting for.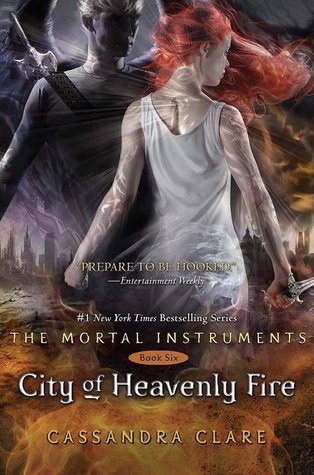 Title:
City of Heavenly Fire
Author:
Cassandra Clare
Format:
Hardcover
Release Date:
May 27th, 2014
Violet thought she'd made peace with her unique ability to sense the echoes of the dead and the imprints that cling to their killers…that is until she acquired an imprint of her own. Forced to carry a reminder of the horrible events of her kidnapping, Violet is more determined than ever to lead a normal life. However, the people who run the special investigative team Violet works for have no intention of letting her go.

When someone close to Violet becomes a suspect in a horrific murder, she finds herself pulled into a deadly hunt for a madman with an army of devoted followers. Violet has survived dangerous situations before, but she quickly discovers that protecting those closest to her is far more difficult than protecting herself.
---
Every second he spent with me, every instant he touched me was like a slow-working poison... I had to end this, now.

When dark spirits threaten to hurt the people Amelia cares for most, she will do whatever it takes to protect the.

Joshua has his own reasons for meeting Amelia at the New Orleans St Louis Number One cemetery at midnight.

Together they will join in a powerful ritual - both knowing that once Amelia steps inside the Voodoo Circle, everything will change, forever.
---
In the year 2086, Camp Eden promises summer "the way things used to be," back before the oceans rose, the sun became a daily enemy, and modern civilization sank into chaos. Located inside the EdenWest BioDome, the camp is an oasis of pine trees, cool water, and rustic charm.

But all at Camp Eden is not what it seems.

No one will know this better than 15-year-old Owen Parker. A strange underwater vision, even stranger wounds on Owen's neck, and a cryptic warning from the enchanting lifeguard Lilly hint at a mystery that will take Owen deep beneath Lake Eden and even deeper into the past. What he discovers could give him the chance to save the tattered planet. But first, Owen will have to escape Camp Eden alive…
---
The summer before his senior year, Jude (yes, he's named after the Beatles song) gets his first job, falls in love for the first time, and starts to break away from his parents. Jude's house is kept dark, and no one talks much—it's been that way since his little sister drowned in a swimming pool seven years ago when Jude was supposed to be watching her.

Now, Jude is finally, finally starting to live. Really live. And then, life spins out of control. Again.

Acclaimed author James Preller explores life, death, love, faith, and resilience in his first young adult novel that will grip readers from the book's dramatic first few pages to its emotional end.