The Fault in Our Stars by John Green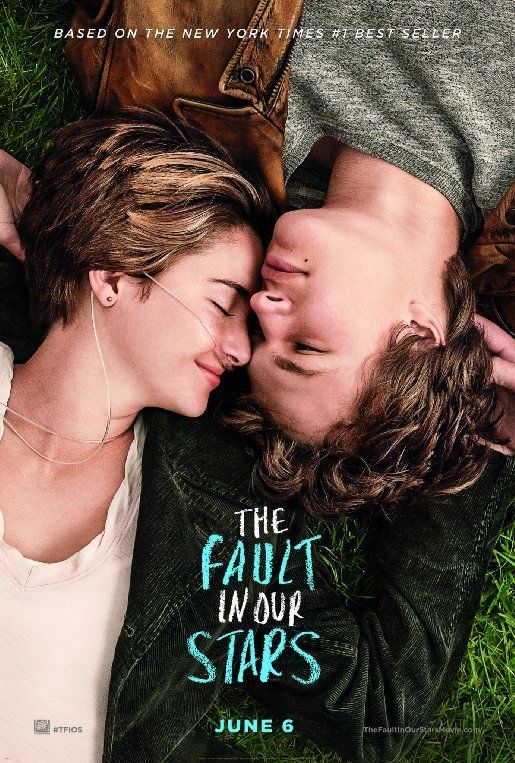 Title:
The Fault in Our Stars
Director:
Josh Boone
Author:
John Green
Release Date:
February 14th, 2013
Rating: 8.5
Out of 10
Hazel and Gus are two teenagers who share an acerbic wit, a disdain for the conventional, and a love that sweeps them on a journey. Their relationship is all the more miraculous given that Hazel's other constant companion is an oxygen tank, Gus jokes about his prosthetic leg, and they met and fell in love at a cancer support group.
From the Book:
Despite the tumor-shrinking medical miracle that has bought her a few years, Hazel has never been anything but terminal, her final chapter inscribed upon diagnosis. But when a gorgeous plot twist named Augustus Waters suddenly appears at Cancer Kid Support Group, Hazel's story is about to be completely rewritten.
Review:
The review I have been waiting to do since Divergent. Who wouldn't have thought this movie would explode and well it did. Compared to the other opening blockbuster this week, Edge of Tomorrow, there wasn't much of a competition to who would top the charts this week. On Friday you could instantly tell as well, the twitter top trending search for a while, least on my end, was #TFIOS. I have to say this movie exploded and while I thought, '
Man this makes me nervous. Either it's going to be amazing or I am absolutely going to hate it having read the book.
' I was so glad to say that this movie took my breath away.
First off I want to explain one thing, the experience in the theater. Preshow the theater was cold and dark, and by that I mean I had goosebumps it was cold and the lights I thought were darker than normal. Normally I would say this was odd for a theater, but I think it was done on purpose. That creating the preshow emotion or making the audience know that this is going to be a rollercoaster off the bat enhances the movie. I enjoyed it, however if it wasn't done on purpose, LIE TO ME.
The cast has two of my favorite new young actors, Shailene Woodley and Ansel Elgort. Shailene is so good, she is emotional, beautiful, and yet realistic. It's hard to find a young girl that can take a character and make them seem so ordinary, you would think it was just a movie. Hazel Grace popped off the screen and into the seat next to you. Augustus Waters was amazing, as well; I just didn't buy his character as well. He's so happy in the first half that when the tide turns it's just so unbelievable. Which I'm not sure if it captured great on film as opposed to the book, but it was still raw.
Their performance paled in comparison to Willem Dafoe on Van Houten. Even though he wasn't on the screen that often, he captured that troubled writer lost in his own world and alcohol. He lashes out perfectly and literally looks like a complete douchepants. I loved it and maybe that's why about every movie he's in I find myself just enjoying his renditions and personification of every character he plays.
The movie is a solid tearjerker. If you go into the movie thinking you won't cry or at least feel something stir inside you, you'll be sorely mistaken. Guys, I want warn you that there is the great possibility even you will. The movie made a few changes but nothing that was over the top or completely duragoty. It kept the major points and all the bare bones of the book, and in my opinion that's what propelled the story further. Not to mention that the performance by nearly every actor in the movie was superb.
I will go ahead and say this, The Fault in Our Stars is
THE
best book to movie adaptation I have seen to date. There were a few things that were cut out, but I understand why they were (time). The one I wished they would have left in was the swing set and Hazel and Augustus selling it and than crying about it afterwards when it is gone. There was a fear of change or an unacceptance to what was going on in their life that made it real. I wanted it, but who is to say it won't be there in an extended cut or something on Blu-Ray or DVD.
So when I heard that this was coming to the theatre I was ecstatic. I loved it, and while most of the YA movies are thought of as Twilight-esque. I want people and highly suggest that anyone who is sceptic of YA movies, go see this one. I guarantee you, it will redefine your views on the genre. As well, Paper Towns by John Green is announced to come out next year. So maybe another great movie to see next year as well. Until then this is my top pick this year and the only two contenders left this year are If I Stay and The Hunger Games: Mockingjay Part 1. The bar is set high though.
Now don't get me wrong the movie is great, but I would be surprised to see it get anything at the big awards, Oscars or Emmys. It should win some of the smaller awards, MTV and others that aren't that prestigious. But this is the style of movies YA needs more of in the film. It's refreshing and real, showing a view of life and love that is hard to deal with, but also the truth to cancer and love. I have a standing offer to see it again if someone is on the fence.
Go See It.