Flashback Friday is a weekly event, hosted here, that highlights a past release that we're dying to get our hands on...
See something you like here?
Click the book title to add it to your Goodreads TBR List!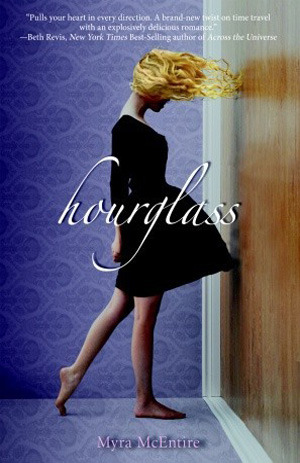 One hour to rewrite the past . . .

For seventeen-year-old Emerson Cole, life is about seeing what isn't there: swooning Southern Belles; soldiers long forgotten; a haunting jazz trio that vanishes in an instant. Plagued by phantoms since her parents' death, she just wants the apparitions to stop so she can be normal. She's tried everything, but the visions keep coming back.

So when her well-meaning brother brings in a consultant from a secretive organization called the Hourglass, Emerson's willing to try one last cure. But meeting Michael Weaver may not only change her future, it may also change her past.

Who is this dark, mysterious, sympathetic guy, barely older than Emerson herself, who seems to believe every crazy word she says? Why does an electric charge seem to run through the room whenever he's around? And why is he so insistent that he needs her help to prevent a death that never should've happened?
My Stance:
Hourglass was brought to me by a vlogger that I found on Youtube. I went hunting for books and book hauls shortly after I found a new site,
BookOutlet
. I love the site and the prices of the books they have, if you have a chance I suggest checking it out. In doing so this series came up and at one point I wasn't sure about the novels or what to expect out of it, frankly I am still not but the first book sounds great.
I love time travel sort of books, and this is all about that. However in a different sort of way, Emerson views the past or has "visions" of them on a daily basis. What I don't understand though, is that her family/brother seems to be understanding and trying to help her with it. Emerson just wants to be "normal" and frankly when you can see the past amidst your everyday normal life, would make that hard.
However when Michael shows up to help, there is something about him. I believe he's like her, but at the same time, from reading this I picture him as an older gentleman. I don't dig the whole teen and middle aged man relationship thing. It just isn't right, and maybe I'm not seeing it correctly and he is younger/teen, but it just doesn't make sense why he would be part of some secretive organization and be the only one sent. I don't see it. But that's the main question I have and why I want to read this book.