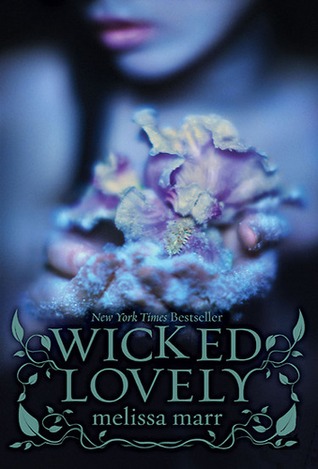 Rule #3: Don't stare at invisible faeries.
Aislinn has always seen faeries. Powerful and dangerous, they walk hidden in the mortal world. Aislinn fears their cruelty - especially if they learn of her Sight - and wishes she were as blind to their presence as other teens.

Rule #2: Don't speak to invisible faeries.
Now faeries are stalking her. One of them, Keenan, who is equal parts terrifying and alluring, is trying to talk to her, asking questions Aislinn is afraid to answer.

Rule #1: Don't ever attract their attention.
But it's too late. Keenan is the Summer King, who has sought his queen for nine centuries. Without her, summer itself will perish. He is determined that Aislinn will become the Summer Queen at any cost — regardless of her plans or desires.

Suddenly none of the rules that have kept Aislinn safe are working anymore, and everything is on the line: her freedom; her best friend, Seth; her life; everything.

Faery intrigue, mortal love, and the clash of ancient rules and modern expectations swirl together in Melissa Marr's stunning twenty-first-century faery tale.
My Review:
Wicked Lovely was a book that kind of surprised me. I wanted more out of the book, and that's why the rating suffered a bit. As well as a few character decisions that I just didn't understand or agree with. However, the world of the faeries was great, and while I am confused on why normal people can't see them, I did enjoy that their "world" was rating alongside reality.

Aislinn is your typical girl and while she lives with her grandmother in an old iron or metal enforced building she can see the one thing that no one else can, faeries. The faeries have two distinct factions or groups, I am used to calling them courts of sort, Summer and Winter. Aislinn views the faeries as nearly children. They run around doing pretty much anything they want, they run around unchecked.

Keenan is the Summer King and while I don't completely understand, there is a curse that whenever he asks someone he is interested in or "in love with" if they want to join him in the court and they aren't the Summer Queen they become part of the winter court instead. It's confusing and I never really understood it, I believe that's close to how it works, and it makes Keenan's life hard. He wants to find the queen to save his people and have some power. As well since the Winter Queen has her king, she has full control and power over Keenan, who doesn't have his queen. Did I mention that the Winter Queen is his mother.

Seth is the friend of Aislinn, and while the friendship starts slow, things progress as the world of the faeries starts to impose itself on Aislinn. He's strong, determined and a gothic of sorts. He's got a few piercings and those give Aislinn a sense of belonging and home. I loved him probably more than anything else. The strength and oddity of him, how he centered the book back into a common ground.

What I never understood though was Keenan believes that Aislinn is his summer queen, and everyone he's cared about has been pulled away from him. However, Aislinn's heart is in a completely different place. She cares about Seth and while it grows Keenan never faults trying to plead and gain her as queen. What got me though was the complete about face, she avoids the faeries completely, than out of no where is in their world. At the same time, she loves Seth, but needs Keenan to save both herself, Seth, and Keenan. It's just so much going on and bouncing back and forth.

What I found great though was the duality of the characters, how they all want and need to completely different people. That duality gives the book depth, however how the narrative was done just made the book hard to follow, and I found I had to reread paragraphs and sentences to grab and capture what I think was trying to be conveyed. As well, the middle of the book was just slow and almost had almost nothing going on, it was like the book could have been shorter, or the book could have been dense with something else or another twist to Seth and Aislinn.

I wanted to know more, I almost expected it of sorts from Melissa Marr where she's thought of a building block of the Fae world. However, I don't feel let down at all, I enjoyed the book. I don't believe this was the book for me, I will still finish the series though since I have it all already and frankly I want to know more about the book and what happens to the characters, Seth and Aislinn mainly.