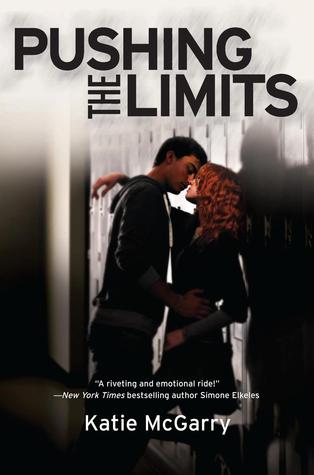 So wrong for each other …and yet so right.

No one knows what happened the night Echo Emerson went from popular girl with jock boyfriend to gossiped-about outsider with "freaky" scars on her arms. Even Echo can't remember the whole truth of that horrible night. All she knows is that she wants everything to go back to normal.

But when Noah Hutchins, the smoking-hot, girl-using loner in the black leather jacket, explodes into her life with his tough attitude and surprising understanding, Echo's world shifts in ways she could never have imagined. They should have nothing in common. And with the secrets they both keep, being together is pretty much impossible.

Yet the crazy attraction between them refuses to go away. And Echo has to ask herself just how far they can push the limits and what she'll risk for the one guy who might teach her how to love again.
My Review:
Pushing the limits was one of those books that at the end of it, it caught me completely off guard. I wasn't sure if I thought I would enjoy this. However what I read doesn't really agree with the synopsis at all. At least from what I remember. Most of all I loved how the characters were real, they weren't some sappy easy chick flick in which the girl falls in love with the bad boy and changes him completely. No, it wasn't that and if that's what you're looking for I suggest you go elsewhere.

The gist of this book is the two, Echo and Noah, lead seemingly imperfect lives. They both go and see the same counselor, for differing reasons. They both lead seemingly impossibly difficult lives. Echo's home life is a complete mess, or so she thinks. Noah is a victim of the lovely Foster care program, as is his brother. The two lead difficult lives, and the issues they have to work with also follow into their relationship. This angst and the hardships that made the romance that much more enjoyable.

Echo is a girl in which her mother is dead, and she lives with her father and the stepmother. She feels neglected and pushed aside, as her stepmother is frankly a complete bitch (from Echo's perspective). All stemming from a a night in which she woke up in a hospital with her mother dead and scars all over her arms. There is an incident that happened (which is in the book near the end), but no one wants to talk to her or listen to her perspective.

Noah is living pretty much on his own doing his own thing, but he thinks about his brother who is living with a group of foster parents. He came out of the system in which nearly spat him out and didn't look back. Defending children who are being abused by their parents or plainly doing the right thing, but viewed the wrong way and moved on. He wants to get his brother out of the foster program and make a life of their own. He knows for a fact that nothing good comes out of the program, and he's on a wild ride of learning just what can be offered and what can happen in the foster program.

What made this book was that they fought with each other constantly, because of how hard and broken their personal lives are normally. It's refreshing to see a tough relationship struggle and the best part was when they understood that they were in love with each other, and Echo realizes that he wants to "save" his brother. It would make her a mother of sorts and it sparts another argument and decision that needs to be made. I loved that, it made their world and their romance difficult and realistic.

Okay I want to address something, I have heard some people compare it to The Fault in Our Stars. I don't think it's that far, the loss and the emotional involvement just isn't there. As well, I think the two deal with completely different topics and while they are both rated 5.0 here, it's for different reasons. In this case it's not a sad loss of a book, but the relationship and hardships they face are completely different. I don't see how they are alike, well the romance bit yes, but what defines the book and their hardships are different.

Katie McGarry created a beast here, from working how they interact and just how the two flip back and forth between the perspectives. It's great and I can't way to read some more of her novels. In fact I think I added a book by her to my poll. On second note no I didn't, because I planned on reading Dare You To this month and dive into some sequels. The only downside to this novel I would say is that the ending was sort of cheesy. I won't explain what happened, but I wanted something different. However I do understand if you wanted to continue their story that it would have been a great continuation aspect, but it's not the same two in the next. :( I'll still read it though.