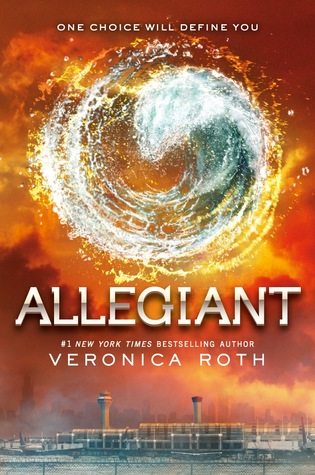 The faction-based society that Tris Prior once believed in is shattered—fractured by violence and power struggles and scarred by loss and betrayal. So when offered a chance to explore the world past the limits she's known, Tris is ready. Perhaps beyond the fence, she and Tobias will find a simple new life together, free from complicated lies, tangled loyalties, and painful memories.

But Tris's new reality is even more alarming than the one she left behind. Old discoveries are quickly rendered meaningless. Explosive new truths change the hearts of those she loves. And once again, Tris must battle to comprehend the complexities of human nature—and of herself—while facing impossible choices about courage, allegiance, sacrifice, and love.

Told from a riveting dual perspective, Allegiant, by #1 New York Times best-selling author Veronica Roth, brings the Divergent series to a powerful conclusion while revealing the secrets of the dystopian world that has captivated millions of readers in Divergent and Insurgent.
My Review:
So the most anticipated book of 2013 (in my view) has finally come up for review. The characters we all love and enjoy come back in full force. Veronica Roth, I would love to start the review by giving a hats off to you for creating a world and a story that is both visually realistic and captures some of the real life trauma and consequences we all face. I thoroughly enjoyed the series and while the rating didn't get a 5.0 like I had thought it would, it's still one of my favorite books, even with the controversial endings (I am one who loved it).

The dual perspective from Tobias and Tris was brilliant. I loved it and wanted more, it brought insight into Four and his actions. Tobias made it fresh, and while I sought his stories and perspective more than Tris's, there was something troubling about how I felt afterwards every time. He also saw the negativity, and seemed almost flat out depressed all the time. Yea he was rejected because of his blood or genes, but that doesn't mean he's unique in other ways. He almost seemed to give up too quickly, whereas in the other books he was the backbone for Tris, not this time around.

Tris took on a monolithical role this time around. She is the spokesperson for the outside world. In a strange new world she is all too eager to see and try new things out, but feels somewhat responsible for Tobias as well. However at times when she sees how dire the outside world is (from the facility that's trying to study and learn how to produce a cure) she is frightened and knows just how dire and dangerous the outside world is in comparison. Tris grows not only in just how she views the outside world but herself and those around her as well. Al lot can be said in forgiveness.

The city of Chicago isn't left entirely behind when the factions nearly crumble and the Factionless take control. But in the same case, they allow a rebellion an almost all out war to start between the factions and the Factionless as well. Those who are able to get their hands on some form of power fight over it, and the battle between Tobias's mother and father strikes a new all time high. However, outside the world is far worse. The facility that has been watching over Chicago as an all out experiment is revealed and shows just what they are doing and the power they are searching for with the serums that's coming out of Erudite. I found that the facility was more or less the pure antagonist than just the simple one person. It was hard to fully pinpoint.

Now Veronica Roth could have left well enough alone, but the symbolism speaks to me wildly here. In this book I view the whole of Tris and Tobias growing up as a high school commencement. They just graduated and when they leave the city, its like that first day of college in which we get a first hand look at real life. Everyone acts differently to the stress, pressure, and the pain and loss that come with college. However what strikes me as amazing is Roth is able to take two differing reactions and mold them into a story. It's how they are dealt with what's outside that pushes them forward into action, acceptance and ultimately the outlook that will shape their lives.

In conclusion (well sort of), I thought it was a great conclusion to the series. While I didn't see that overall wow factor that would push this up to a 5.0 rating and the slow middle section that was more character building and plot buildup. If you are looking for a book to define dystopia, this would be a good contender for that title, next to a few others. I have to agree though the conclusion of this trilogy was heartfelt and saddens me. Veronica Roth is an author I intend to follow at capture every book she blesses with her fingers.

Now I'm going to put a line so if you don't want to know anything about the ending (I'm not going to spoil what happens, just my view on why it was so good), please stop.


---

I want to talk about the ending, but I know some of you haven't read the book yet. The ending is very controversial and was a hot debate on good/bad for a while. I loved it, it was something just nearly textbook. I never saw it coming and frankly that's the main reason the lingering effect the book has left on me. The twist and emotions that were captured in the last few chapters took breaths away all around the world, and will continue to do so. The ending was perfect, despite what your mind will tell you initially.

Okay I don't appreciate how Tris was handled or what happened to her, but in the same case it shows that the book wrote itself. That Veronica Roth didn't write it how she thought it should be written, cause I don't know of any author who would want that to happen to a character they grew for so long. And Tobias, I couldn't imagine how he must feel, I mean really feel. I wanted to almost hug him and comfort him at the end. The loss and the pain he must feel not on a single impact, but a daily basis was almost cruel. Life is that way though, people deal with loss and pain everyday, it's how we remember and hold ourselves together to push forward.