Waiting On Wednesday is a weekly event, hosted over at Breaking The Spine, that spotlights upcoming releases that we're eagerly anticipating.
See something you like here?
Click the book title to add it to your Goodreads TBR List!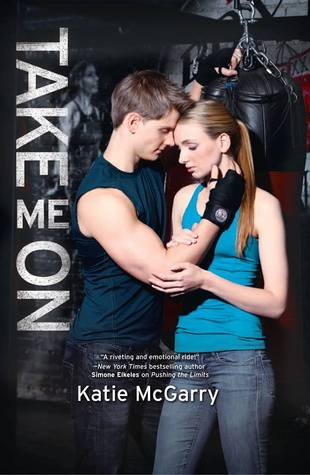 Acclaimed author Katie McGarry returns with the knockout new story of two high school seniors who are about to learn what winning really means.

Champion kickboxer Haley swore she'd never set foot in the ring again after one tragic night. But then the guy she can't stop thinking about accepts a mixed martial arts fight in her honor. Suddenly, Haley has to train West Young. All attitude, West is everything Haley promised herself she'd stay away from. Yet he won't last five seconds in the ring without her help.

West is keeping a big secret from Haley. About who he really is. But helping her-fighting for her-is a shot at redemption. Especially since it's his fault his family is falling apart. He can't change the past, but maybe he can change Haley's future.

Hayley and West have agreed to keep their relationship strictly in the ring. But as an unexpected bond forms between them and attraction mocks their best intentions, they'll face their darkest fears and discover love is worth fighting for.
My Stance:
Katie McGarry is by far one of my far authors of YA Romance. She delves into topics that aren't seen around. They don't strive on just the simple, random falling in love with people. she creates a unique story that adds some background or affliction to the characters. The hardships and conflictions they have throughout the book don't detract from there character, but gives them substance. Its how they are so troubled, so distraught, that makes them realistic and believable. For that reason it's why I love McGarry's books and search her books out when they come out. For the reason her characters are what attract me.

In this case, Haley's reason for leaving a kickboxing ring and vowing to not return isn't there (while I know this is just a synopsis and it doesn't need to be there), it's what intrigues me. Than West Young enters and accepts a fight in her honor, and changes her outlook. West is troubled by something that his family is going through. I am curious on what he did to his family, and why he feels he needs to redeem himself with Haley. Its this character afflictions that define who they are, and make them more believable and allow me to fall for them over and over.