Stacking the Shelves is hosted by
Tynga's Reviews
and is all about sharing the books you are adding to your bookshelf, be it the physical one or your digital one!

Good start to the week everyone! Hope you had a great weekend and a great Mother's Day. Also if you are part of all the bizarre weather out there, my thoughts go out to you. Hope everything is safe, and you keep yourself safe as well. I have been working on my test blog with getting a new blog template thats more visually appealing. I am getting bored with this one, and it makes me a bit sad to get rid of it, but I want something up to date, and what to a fresh look. Either way, I am going to keep posting till I can work out the bugs and kinks in the template. I will keep everyone informed with what I am working on, and the new posts as well. I hope you all are safe and thank you all for your visits and continued support. Thanks!

So without further adieu:
Shelf Additions:
Olive Corbett is not crazy. Not anymore.

She obediently takes her meds and stays under the radar at school. After "the incident," Olive just wants to avoid any more trouble, so she knows the smartest thing is to stay clear of the new girl who is rumored to have quite the creepy past.
But there's no avoiding Miranda Vaile. As mousy Miranda edges her way into the popular group, right up to the side of queen bee Katie – and pushes the others right out – only Olive seems to notice that something strange is going on. Something almost . . . parasitic. Either Olive is losing her grip on reality, or Miranda Vaile is stealing Katie's life.

But who would ever believe crazy Olive, the girl who has a habit of letting her imagination run away with her? And what if Olive is the next target?

A chilling psychological thriller that tears through themes of identity, loss, and toxic friendship, Shift will leave readers guessing until the final pages.
---
Will

Maybe I'm too late. Maybe Zoe's dad stole all her fifteen years and taught her to be scared. I'll undo it. Help her learn to be strong again, and brave. Not that I'm any kind of example, but we can learn together.

When the whole world is after you, sometimes it seems like you can't run fast enough.

----

Zoe

Maybe it'll take Will years to come to terms with being abandoned. Maybe it'll take forever. I'll stay with him no matter how long it takes to prove that people don't always leave, don't always give up on you.
Title:
Ruined
Author:
Maria V. Snyder
Format:
Paperback
Release Date:
August 1st, 2009
A gripping YA supernatural novel set in New Orleans: TWILIGHT with a ghostly twist.

Rebecca couldn't feel more out of place in New Orleans, where she comes to spend the year while her dad is traveling. She's staying in a creepy old house with her Aunt Claudia, who reads Tarot cards for a living. And at the snooty prep school, a pack of filthy-rich girls treat Rebecca like she's invisible. Only gorgeous, unavailable Anton Grey seems to give Rebecca the time of day, but she wonders if he's got a hidden agenda. Then one night, in Lafayette Cemetery, Rebecca makes a friend. Sweet, mysterious Lisette is eager to talk to Rebecca, and to show her the nooks and crannies of the city.
---
At his coming-of-age party, Matteo Alacrán asks El Patrón's bodyguard, "How old am I? ... I know I don't have a birthday like humans, but I was born."

"You were harvested," Tam Lin reminds him. "You were grown in that poor cow for nine months and then you were cut out of her."

To most people around him, Matt is not a boy, but a beast. But for El Patrón, lord of a country called Opium--a strip of poppy field lying between the U.S. and what was once called Mexico--Matt is a guarantee of eternal life. El Patrón loves Matt as he loves himself, for Matt is himself. They share identical DNA.

As Matt struggles to understand his existence, he is threatened by a sinister, grasping cast of characters, including El Patrón's power-hungry family. He is surrounded by a dangerous army of bodyguards and by the mindless slaves of Opium, brain-deadened 'eejits' who toil in the poppy fields.

Escape from the Alacrán Estate is no guarantee of freedom because Matt is marked by his difference in ways he doesn't even suspect. Around every turn in this vivid, futuristic adventure is a new, heart-stopping surprise.
---
From debut author Amanda Maciel comes a provocative and unforgettable novel, inspired by real-life incidents, about a teenage girl who faces criminal charges for bullying after a classmate commits suicide.

Emma Putnam is dead, and it's all Sara Wharton's fault. At least, that's what everyone seems to think. Sara, along with her best friend and three other classmates, has been criminally charged for the bullying and harassment that led to Emma's shocking suicide. Now Sara is the one who's ostracized, already guilty according to her peers, the community, and the media. In the summer before her senior year, in between meetings with lawyers and a court-recommended therapist, Sara is forced to reflect on the events that brought her to this moment—and ultimately consider her own role in an undeniable tragedy. And she'll have to find a way to move forward, even when it feels like her own life is over.

With its powerful narrative, unconventional point of view, and strong anti-bullying theme, this coming-of-age story offers smart, insightful, and nuanced views on high school society, toxic friendships, and family relationships.

Supports the Common Core State Standards.
---
The Emmy Award-nominee and Edgar Award-winning duo bring readers back to the Wasteland in this thrilling sequel.

Karin Slaughter, bestselling author of Criminal, called Wasteland, "A Lord of the Flies for future generations. An irresistible page-turner."

The former citizens of Prin are running out of time. The Source has been destroyed, so food is scarcer than ever. Tensions are rising…and then an earthquake hits.

So Esther and Caleb hit the road, leading a ragtag caravan. Their destination? A mythical city where they hope to find food and shelter - not to mention a way to make it past age nineteen.

On the way, alliances and romances blossom and fracture. Esther must rally to take charge with the help of a blind guide, Aras. He seems unbelievably cruel, but not everything is as it seems in the Wasteland.…

In this sequel to Wasteland, the stakes are even higher for Esther, Caleb, and the rest of their clan. They're pinning all their hopes on the road...but what if it's the most dangerous place of all?
---
It's time.

Evil is running rampant and sweet Anna Whitt is its target. Nobody knows when or how the Dukes will strike, but Anna and her Nephilim allies will do anything necessary to rid the earth of the demons and their oppressive ways.

The stakes are higher than ever, and Anna is determined that the love she feels will be her strength, not a liability. But trying to protect the ones she loves while running for her life and battling demonic forces proves to be perilous—especially as faces are changing and trust is fleeting. When the Duke of Lust sends Anna's great love, Kaidan Rowe, to work against her, Anna must decide how much she's prepared to risk.

In the most sensual and fast-paced installment yet, Sweet Reckoning brings all the beloved Neph together one last time to fight for their freedom.
---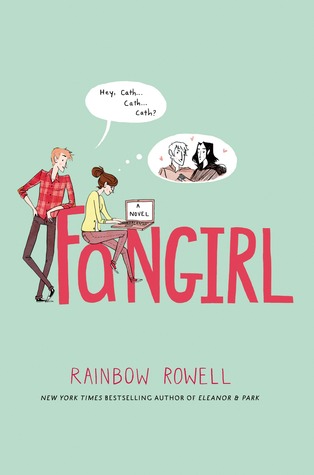 A coming-of-age tale of fanfiction, family, and first love.

Cath is a Simon Snow fan.

Okay, the whole world is a Simon Snow fan.... But for Cath, being a fan is her life—and she's really good at it. She and her twin, Wren, ensconced themselves in the Simon Snow series when they were just kids; it's what got them through their mother leaving.

Reading. Rereading. Hanging out in Simon Snow forums, writing Simon Snow fanfiction, dressing up like the characters for every movie premiere.

Cath's sister has mostly grown away from fandom, but Cath can't let go. She doesn't want to.

Now that they're going to college, Wren has told Cath she doesn't want to be roommates. Cath is on her own, completely outside of her comfort zone. She's got a surly roommate with a charming, always-around boyfriend; a fiction-writing professor who thinks fanfiction is the end of the civilized world; a handsome classmate who only wants to talk about words...and she can't stop worrying about her dad, who's loving and fragile and has never really been alone.

For Cath, the question is: Can she do this? Can she make it without Wren holding her hand? Is she ready to start living her own life? And does she even want to move on if it means leaving Simon Snow behind?