Ender's Game by Orson Scott Card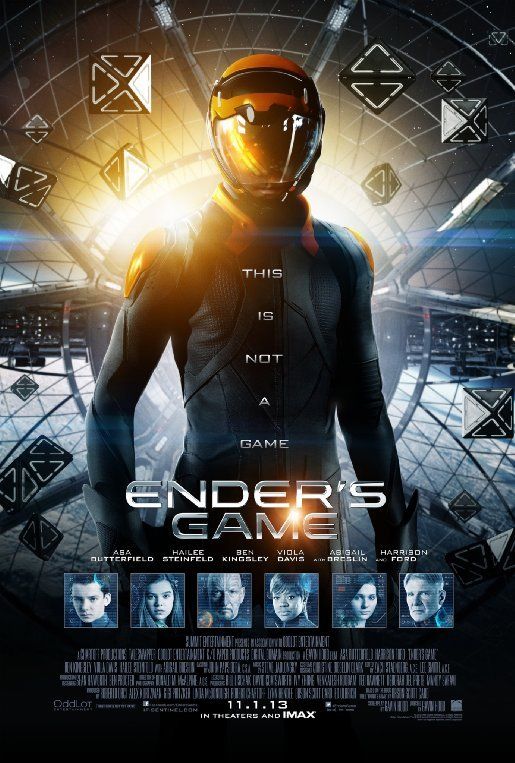 Title:
Ender's Game
Director:
Gavin Hood
Author:
Orson Scott Card
Release Date:
February 14th, 2013
Rating: 5.5
Out of 10
Young Ender Wiggin is recruited by the International Military to lead the fight against the Formics, a genocidal alien race which nearly annihilated the human race in a previous invasion.
From the Book:
Once Again, Earth is under attack. An alien species is poised for a front assault. The survival of humanity depends on a military genius who can defeat the aliens.

But who?

Ender Wiggin. Brilliant. Ruthless. Cunning. A tactical and strategic master. And a child.

Recruited for military training by the world government, Ender's childhood ends the moment he enters his new home: Battle School. Among the elite recruits Ender proves himself to be a genius among geniuses. In simulated war games he excels. But is the pressure and loneliness taking its toll on Ender? Simulations are one thing. How will Ender perform in real combat conditions? After all, Battle School is just a game.

Right?
Review
The second book I need to read, and frankly this movie just doesn't do any justice to the book (at least from what I have heard). In High School, my best friend raved about this book, and when the movie trailer showed up in my youtube recommendations you can bet I was a bit intrigued. First I haven't read the book because my TBR pile is ever growing and I will dive into it sooner than later. Second I thoroughly enjoyed the trailer. It was packed with action and morality. However, I never thought that a Director and Screen Writer could butcher a potential this badly.

First off, Ender Wiggin (played by Asa Butterfield) was a fantastic portrayal of a tactical genius. He thinks everything through, every little argument has a purpose, even if he doesn't win in the short-term. The way he flat out destroys his enemies, and he best describes it: "I don't see how you can't love your enemy, but in that moment when I truly understand and love them I destroy them. So they can't hurt me again," or something along those lines. Asa just portrays him grandly, which is the best part of the movie.

Harrison Ford plays Colonel Graff and Viola Davis plays Major Gwen Anderson, both did mediocre jobs with Viola being better. Graff is just a grumpy old guy that for some reason is a military advisor in a alien invasion warfront. He makes a reference about raising horses and he knows a thoroughbred when he sees one, referring to Wiggin, and that just puts how ridiculous his character really is. He's not a cruel immoral general that I thought he'd be, but just some dumb schmuck who wants Ender to win the war for them, and he's too stupid to rally him. Gwen Anderson is the complete polar opposite who is completely concerned with their mental well being. Frankly there can't be one without the other, and while Graff overrules Anderson on nearly every decision, I am left wondering just why she even stuck around. The two do not see eye to eye, and frankly they fight more than they agree or work together in the war effort.

Now to my favorite point, the plot. What a load of garbage. Humanity is at stake because some aliens (the Formics), yet it's never explained what part of humanity was at stake, was it the planet, massive lives? What? Than the major plot point is that Mazer Rackham, who is some war hero for sacrificing his life to destroy a ship and end the first invasion/war. So I understand that, but haven't we seen this over and over and over. It's just so boring nowadays. I also thought it was funny how every time they said his name, it was like it was one word (Maizorrackem). I expected more out of the plot and the very very very linear design. There wasn't a twist until the end, and frankly it was too late anyways.

Furthermore, to add the never stopping fatality of a dream I had, this movie cut a lot out of the training program, or at least I feel like it did. Wiggin just frankly doesn't seem to make allies at all in the movie, there's no friendship at all, just random people being like, "Yeah, he's smart. I'll follow him." I found it degrading to the book. Frankly the size of the character building in this movie and what it needed to be done, you should have split it apart into two and elaborated on the first war with Mazer Rackham more. I don't know what to say, the cuts and the parts missing and how I never felt attached or interested in any of the characters left me wondering what the hell I just watched.

In conclusion, if you want something to gouge your eyes out and will leave you haunted. This is probably for you. The only character worth noting was Ender Wiggin (and I'm not naming the sub-characters, because face it they weren't around enough to make an impact on the movie at all). The plot was just so linear and predictable, it will leave you yawning. Whatever they cut, whatever they did to the training portions of this book, it needed to be there. The interaction and relationships just weren't there that needed to be. I left the theatre and the DvD shaking my head, I made a fool of myself for watching it twice.