Flashback Friday is a weekly event, hosted here, that highlights a past release that we're dying to get our hands on...
See something you like here?
Click the book title to add it to your Goodreads TBR List!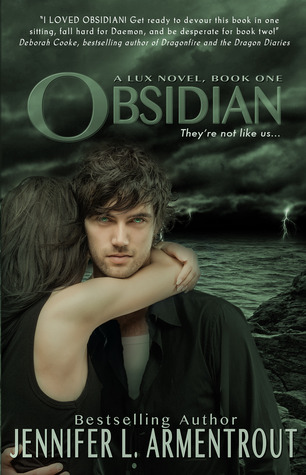 Starting over sucks.

When we moved to West Virginia right before my senior year, I'd pretty much resigned myself to thick accents, dodgy internet access, and a whole lot of boring... until I spotted my hot neighbor, with his looming height and eerie green eyes. Things were looking up.

And then he opened his mouth.

Daemon is infuriating. Arrogant. Stab-worthy. We do not get along. At all. But when a stranger attacks me and Daemon literally freezes time with a wave of his hand, well, something... unexpected happens.

The hot alien living next door marks me.

You heard me. Alien. Turns out Daemon and his sister have a galaxy of enemies wanting to steal their abilities, and Daemon's touch has me lit up like the Vegas Strip. The only way I'm getting out of this alive is by sticking close to Daemon until my alien mojo fades.

If I don't kill him first, that is.
My Stance:
Looking through Goodreads for a book for this week, I was struck by something I want to do but at the same time am not sure if it's going to be the best thing. I want to read a book that when I first looked at it, read the synopsis, rejected it and moved on. Than I stumbled upon Obsidian, the first book in the Lux series, and while I haven't really heard much about it, the synopsis didn't really interest me when I had just started reading. But than again my taste in books have and is ever changing. I read a lot differently than when I did say a few weeks ago.

So onto the actual book, Obisidian. At first this is a simple my neighbor is an alien book that for some reason reveals himself to his neighbor. However, my question and the main reason I rejected this book, if he is able to stop time and save the main character (whose name isn't in the synopsis anywhere) and she is able to realize it. Now correct me if I am wrong, if he can stop time, that means all matter and time is stopped, so by her moving and recognizing that he did it, she isn't matter? It confuses my poor head and makes little sense to me. Sorry, but I am just stuck on this, and maybe if I give it a chance I will like it. I am not sure.