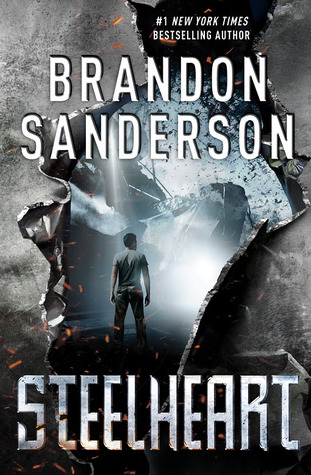 There are no heroes.

Ten years ago, Calamity came. It was a burst in the sky that gave ordinary men and women extraordinary powers. The awed public started calling them Epics.

But Epics are no friend of man. With incredible gifts came the desire to rule. And to rule man you must crush his wills.

Nobody fights the Epics... nobody but the Reckoners. A shadowy group of ordinary humans, they spend their lives studying Epics, finding their weaknesses, and then assassinating them.

And David wants in. He wants Steelheart—the Epic who is said to be invincible. The Epic who killed David's father. For years, like the Reckoners, David's been studying, and planning—and he has something they need. Not an object, but an experience.

He's seen Steelheart bleed. And he wants revenge.
My Review:
Steelheart was a refreshing read between Eleanor & Park and the next book which at the time I was looking for another Rainbow Rowell book to perk my interest in her novels back up. However, Fangirl being out, the story just doesn't interest me completely. So maybe it's another Romance novel or something, but this was between everything and I wanted to use this novel as something new. It did that, and acted like a good pallet cleanser, I just didn't understand what the book was until the end.

A different breed of humans run Manhattan or a similar style city, Epics; humans with extraordinary abilities or powers. Epics run the city with ruthless aggression and take what they want, when they want. The Epics are divided into classes ranging on the number of powers they have and the severity of them together and how well they all mesh together. The catch is though, no matter how strong an Epic is, there is always one or two ways or weaknesses to all of them. Each ability hides an innate weakness, and while some may be so obscure it's more fun for the reader to try to guess the weakness than just straight being told.

The worst one being an Epic named Steelheart. Is believed to be immortal, an Epic that is nearly impervious to everything and holds allegiances to multiple other Epics that help aid in his power. He can also turn anything into steel. There are parts of Steelheart that amaze me, he goes through great lengths to control those around him, afraid of whoever may just figure out his secret weakness. Going to great lengths to destroy, not just kill, anyone who possibly comes close.

Enter David the main protagonist, he's a young boy who in the start of the book, is in the middle of a bank as an Epic starts a robbery. Most humans just drop and give him what he wants, until Steelheart enters and the whole situation becomes awkward, Epic vs. Epic. This part I enjoyed, it was the power of two immense powers clashing, well one immense power. But during the end he witnesses the one thing that drives him for life, he witnesses Steelheart bleed, at the hands of his father. Which is the only extent of Steelhearts great wrath and immense display of power.

David is consumed by revenge, but it's not a blind driven revenge. He thinks through everything methodically, going through great detail on every Epic, and finding their weaknesses. I loved how revenge didn't drive him insane, but fueled him and guided him. However, the main thing David needs is the Reckoners. The only group that fights for humans rights, and their need to stand up against the Epics. Its through them that the story continues.

The Reckoners weren't altogether what I thought, Megan was the one that stood out the most to me. Which is sad, I wanted the rest of the cast to stand out better, but there just wasn't that connection or relationship with David and them like Megan. However, they each had a unique personality and helped drive the story further as they aided David. The problem I had though was, a group of organized resisters just seemed to drop everything for "good" information they hadn't seen and from a teenager. It just seemed like a big leap for a group of that size, but maybe they just didn't have many options. I just wasn't sold on them buying into David that quick.

The plot was pretty much linear, I wanted some more twist. While there was a twist, it wasn't until the end to setup the sequel, and to me its not a plot twister the book needed to just catapult this book further. David and Megan's relationship was rather short and when it got good, it ended too short. I woulda put that further into the story to make what happened to her more drastic and heartfelt. I wanted more from this book and I expected it, but while it was just a whim read, it did satisfy me, just not to where I thought it would go.

I came back to this again when writing the review, initially I gave it a 4.0 and had to drop it to a 3.5. I just didn't see it extending that far. It needed a good twist, or something that brought a better thrill or suspense to the book. The plot was too linear and predictable that while it kept my attention, it didn't leave me wanting a sequel or to read the next chapter like I would expect in a 4.0 or higher book. Not saying I won't read the sequel, I will because Firelight sounds like a great Epic to read about.