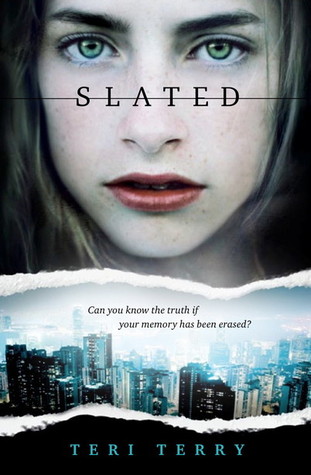 Title:
Slated
Series:
Teri Terry
Series:
#1 -
Slated
Format:
Hardback
Release Date:
January 24th, 2013
My Rating:
4.0 out of 5.0
Debut author Teri Terry has written a brilliantly compelling, original and thought-provoking novel about an uncomfortably plausible future.

Kyla has been Slated—her memory and personality erased as punishment for committing a crime she can't remember. The government has taught her how to walk and talk again, given her a new identity and a new family, and told her to be grateful for this second chance that she doesn't deserve. It's also her last chance—because they'll be watching to make sure she plays by their rules.

As Kyla adjusts to her new life, she's plagued by fear. Who is she, really? And if only criminals are slated, why are so many innocent people disappearing? Kyla is torn between the need to know more and her instinct for self-preservation. She knows a dangerous game is being played with her life, and she can't let anyone see her make the wrong move . . . but who can she trust when everyone is a stranger?
My Review:
Slated was a book that I bought nearly on impulse, a book that drove me crazy. The amount of possibility from this book was enormous and that concept is what drove me into the book. The idea that if you are a criminal you can be slated, your memory wiped and given a new life, but with someone hovering over your shoulder. However, what happens if that program has a flaw, and the person starts to question and wonder why they are being slated. The major part that caught my attention though was the underlying moral question, is is moral/humanitarian to wipe someone of their past and give them something in place?

Kyla starts the story within the facility that all slateds are "born" into, and I found that it's not as sterile or clean as what normal cleansing facilities in any other story would be. She is taught to function like a human and is given information about her family she is being placed with. However, she likes to draw and during part of the exploration she finds out she is better at drawing with her off hand, as opposed to her dominant one. It's subtle hints that Terry gives throughout the book that elude to the idea that Kyla knows she's uncovering her past or pieces of who she was.

The world isn't like the peaceful oblivion everyone wants to be, a subtle utopia in the midst of chaos is what I would describe it best as. All slated have some support group in which they talk about their assimilation and their overall daily life and how they feel. However, as the story goes Kyla begins to realize that there is a group of rebels that are fighting, the cause isn't sure as of yet. Along with the rebels comes the disappearance of a teacher and some people in her support group that no one wants to talk about and just simply ignores. It's like the slated are being used for something, or those that are speaking out are being killed silently.

The two other characters that I would note are Ben and Tori. Both directly impact Kyla in different ways, and I have to agree with a fellow blogger. Tori is a complete bitch to Kyla, for the simple matter that she's a Slated and likes the same boy. However, Ben has no interest in Tori, making Tori a completely useless character if not for the fact to bolster the appeal of Kyla. Kyla though does one thing I find completely destructive, and goes all Bella Swan on the book. She doesn't believe Ben's feelings for her are genuine and while he states it time and time again, she just falters. I'm sorry it's annoying, but the romance isn't the focus of the book, and shouldn't detract from much in this case other than annoy you.

What got me most intrigued through the book was the sense of a governing body trying to control emotions. "Levo's" are attached to the slated and if the device gets too low they shut your system down. It's this principle that drives the book forward and pushes me to continue to read. I want to know what happens when the Levo is tampered with, which we find out in the ending. However, at the same time it gives this possibility that this dystopia can actually happen. I loved that about it, the potential impending doom of our government wanting to control crime and safety through emotion monitoring.

My major downside was that even though Kyla questions the world she is thrown into, there comes these annoying times where she seems to get premonitions about what could happen. Feels like the world is going to collapse or that something is going to happen. In YA this happens more often than not, and frankly while normally we all feel anxious, that portrayal is just false. It doesn't seem real at all, and twists the story or character's decision in a less than genuine path. It's annoying and I have to ask for any author that does this to stop, or if you must do it genuinely. By that I mean make it seem like she's nervous/anxious, and how she acts reflect that.

In the end though, I enjoyed the book and while it had some hardships that I found. I wanted more of the romance in this story, and thought there would be about halfway through the book. I was a bit disappointed, but the book focuses more on the Political aspects of a dystopian world more so than the rest of the interactions. The character flaws, premonitions, make Kyla a bit hard to understand and get a bearing on, but makes her mysterious at the same time. If you can overlook a few aspects and are interested in the political workings, I suggest to at least give it a try.