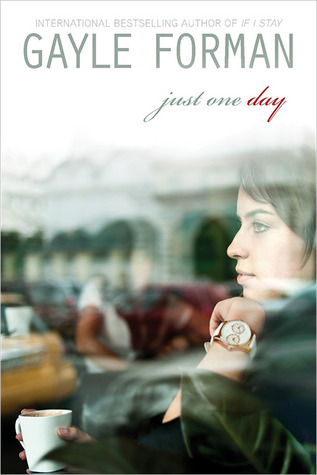 A breathtaking journey toward self-discovery and true love, from the author of If I Stay

When sheltered American good girl Allyson "LuLu" Healey first meets laid-back Dutch actor Willem De Ruiter at an underground performance of Twelfth Night in England, there's an undeniable spark. After just one day together, that spark bursts into a flame, or so it seems to Allyson, until the following morning, when she wakes up after a whirlwind day in Paris to discover that Willem has left. Over the next year, Allyson embarks on a journey to come to terms with the narrow confines of her life, and through Shakespeare, travel, and a quest for her almost-true-love, to break free of those confines.

Just One Day is the first in a sweepingly romantic duet of novels. Willem's story—Just One Year—is coming soon!
My Review:
Just One Day by Gayle Forman, I have to start by saying my expectations were probably too high for this book. I went into this thinking it'd be a 4.5 to 5.0 easily. I mean it's Gayle Forman, after If I Stay I didn't think she'd go down at all. I was wrong, but that's not saying I didn't enjoy the book a lot. I just had some higher expectations out of this book than I normally would. I have to apologize to Gayle for that, which is why I didn't rate this book until doing this review.

Now that's out of the way. I did enjoy this book, however I had an issue with the rating going through my notes again and remembering the story. I knew for sure it was a 3.5, but to bump it up to a 4.0 I stretched some of my heart, and I may reduce it sometime, but I feel this is correct. This is the hardest book I've had to rate, it's just that I was looking for romance, but the growth of Allyson was what drove this book home.

So the book starts with Allyson Healey in England and while she is bored of the normal sight seeing she takes this offer from Willem to go out and see an underground performance of Twelfth Night. Her entire world is turned upside down when instead of heading back to her friends house, she takes off with Willem to Paris. In a single day in Paris, their day is thrown for a loop and is strained by something sparks between the two or so Allyson thinks. I found that yea you tend to get pulled in, but at the same time there is no hesitation in Allyson at all, or any questions or reservations.

When she wakes up the next day and finds that Willem is gone, she freaks and with a phone call to the tour guide to come save her and explaining her humiliation and feeling she got used and ultimately heartbroken. Even her friend thinks she is crazy and needs to get over Willem. However after going to college and taking a Shakespeare class she questions that idea. The way Allyson goes through her life and still questions whether he left her or if he had any feelings for her. The way she tries to get in contact with some of the people to contact him is almost stalkerish. But I have to agree, if you love someone that much, to what ends will you go through to find them again.

What drove this book down for me, is how the emotion and romance just isn't there. Allyson grows wildly through the book as she makes new friends and learns what it means to be herself and not what some people see in you or expect you to be. That message was great. There is so much Shakespeare parallels in this book that I found myself wanting to read some afterwards.

Another downside to this book was Willem, there just isn't much about him that we find out and I found it hard to remotely care about him. I need to read the next book to gauge a better view on him, but in this book exclusively he just wasn't there. He totes her around Paris, and during the night when they are sleeping he slips off and ____ (read the book) happens and he doesn't make it back. I have to ask, why didn't he leave a note, I left to get breakfast, go to the bathroom, Anything. It was just stupid and frankly would have saved Allyson and maybe his heartbreak as well. I expected more out of him.

The second two-thirds or more of the book is where the book is at. The first third is a rollercoaster of romance and wondering Paris, but get beyond that and a sad rich girl deals with a heartbreak and depression. She learns who she is and ultimately what she wants to fight for. You find that you want Allyson to find Willem and made the story a sad realistic story. If you can get past how she views some of the cities and her whining about how the world isn't how she views it, there is meat on the bone in it. I loved it and cannot wait to get into the next book and see just what happened to Willem and the whole ordeal.