This is a new segment, Featured Discussion. Where, I am looking at heading with this segment is more of a opinion based discussion. There is some that will be true and fact, but for the main part I want a good discussion, and I want people to chime in and talk. I will make my opinion and comments known as well. However please, PLEASE do not insult or degrade anyone else.
Featured Discussion:
Well I was going to do something different, and try to get caught up on a few other topics I have been meaning to get to, but when I was working on the Divergent Movie First Look post, I didn't realize I did it over this second part of the Featured Discussion. So I am going to recreate this hopefully better than what I first started, we'll see.

In the first part of this section I spoke about the main accessory I think in books that everyone should own and have a few of at home, bookmarks. However, there is another product that's hit the market and seems to have taken it by storm. I see these all over the place, and they don't target everyone. Namely myself, but I am not doing this segment solely for what I view would be good. I have looked at some of the products and while I am really only naming two distinct products, I am more or less talking about the styles and purposes of each product, and how well it serves that goal. This discussion, is on the new Booklights.

I am sure all of you that read and are avid readers like myself, you read at night and enjoy a good thriller and something to exhaust your mind, or just that alone time before bed. Or there are times when the power goes out and there's nothing left to do; can't read because there's no electricity because its dark. That's where a good book light would come in handy, but which type is good for you? they range from all different shapes and sizes, purposes and most of all price. First off I am going to look at the lower end of the spectrum.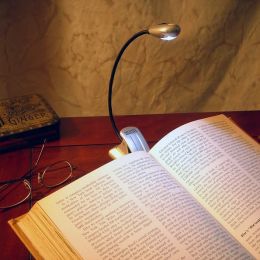 Mighty Bright Silver Xtraflex LED Booklight
by Mighty Bright for Gold Crest LLC
First this is the cheaper brand, at just under $11 it's not the cheapest. I specifically picked this model out to represent the lower spectrum because I feel it's the better quality of the specific spectrum. The light is on a swivel or adjustable head so it makes turning the light a breeze and ultimately can pinpoint the area you are struggling to see. I love this concept because it generalizes the audience and market, by allowing the head to fit any angle and any size of reader. It's so universal it's perfect.

What I don't like about this product, is the how it's fixed on to the book. If you are an avid reader like me and overall compulsive to how your books look, this would worry you to. The base of the light, clamps onto the cover of your book. Personally that bothers me cause if something happens while I am reading, the cover can actually be torn because of the light. To me that's more of a nuisance and a great deterrant from even considering this book. As well it could end up tearing the pages, and than I would have to by more Filmoplast to fix the problem. Personally this just wasn't what I was looking for.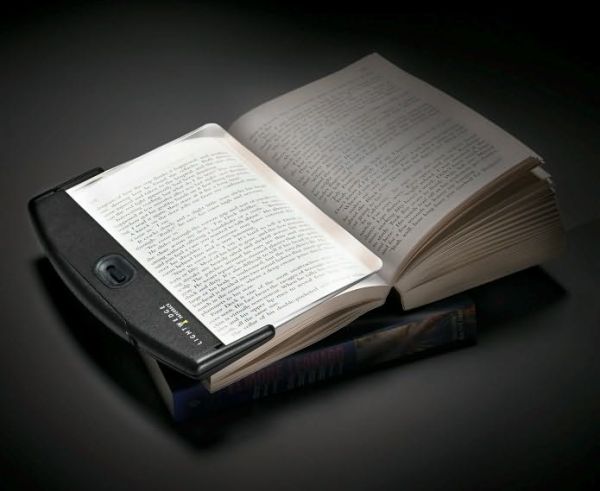 Lightwedge Paperback Reading Light
by Lightwedge
The Lightwedge is what I would say would be the higher end of the spectrum coming in from an array of $25 to an upwards of $50. I love the idea that this light covers the entire page and illuminates not just a single spot on a page like normal cheaper book lights. The wedge allows you to see the entire page clearly and allows you to focus your reading entirely and without any interruptions. Normally with a book light, if the atmosphere or shade/darkness changes you may have to move the light around, however with the Lightwedge that's not necessary.
The downside to this concept however comes with the product itself again. Being rechargeable you don't have to worry about batteries on this product, but when you want to turn the page, the Lightwedge seems to be in the way all the time. As well going from one page to the other, you have to constantly flip this to one page, than the other when the page turns. It seems more like this would be in the way than what would be of help. If there was some other more direct light source that utilized the same technology, it would be better.
Comparing the two products what you should think about the most is how often you read in the dark, if it's more frequent the Lightwedge may be for you, depending how you like the style and if you can get past the nuisance of flipping it from page to page. However if you find yourself occasionally reading in the dark, maybe the cheaper Booklight model may be for you. It's all in how often you read in the dark, and what you are willing to compromise with.
While the wedge is nice and even if it is a bit more expensive, I would consider it over the booklight, I could get over the nuisance, but I couldn't get over the damaged book.
You don't have to solely look at the two products that I have mentioned, there are many many more booklights and other styles and models that are out there to served and meet the needs of readers. Look around, find something that makes you happy and as well, something that you will want to use. There isn't anything worst than buying a product and not actually using it. I dislike that, and I hate to see wasted tools. Find something you are interested in, and will benefit from and I encourage you to share your finds with me, I am always interested in learning about what's out there.
As well, if you have any ideas or suggestion for future Featured Discussions feel free to drop me a message here, leave a comment or send me an e-mail (Here). I am looking for suggestions and other topics that interest people. I am going to look at bookshelves or different forms of filmoplast for book repair in the future. I can't wait to hear from you guys!